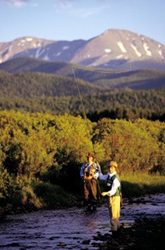 Social distancing while still getting a breath of fresh air is more than possible in Grand County, and outdoor enthusiasts can be reassured that the Grand County Tourism Board will continue to keep health and safety of visitors a top priority.
GRANBY, Colo. (PRWEB) May 20, 2020
The current situation surrounding COVID-19 is ever-changing. Because of the pandemic, people have been asked to distance themselves from others in order to mitigate the spread of the virus. Although it is important to stay safe and practice proper social distancing measures, it is still important to get outside and enjoy the fresh air. Grand County offers an abundance of safe space for activities such as hiking, biking, fishing and scenic driving.
Hiking & Biking
As Grand County rolls into mud season, hiking and biking trails around the area are beginning to clear as the snow melts. Those looking to get out and stretch their legs may not see themselves scaling peaks or venturing above tree line, but there are still plenty of accessible trails around Grand County to explore.
The Fraser to Granby trail is open to both hikers and bikers and allows for miles of wilderness riding or walking. This trail runs between the two towns, but a great place to start is near the Inn at Silver Creek where the trail climbs to a vista that showcases views of Granby. Hikers may also opt for a scenic loop around Monarch Lake. This trail is very remote this time of year, as it is located near Arapahoe Bay on Lake Granby, but it includes an excellent opportunity to view wildlife.
Another multi-purpose use trail is Fraser River Trail. This partially paved trail runs from Winter Park Resort to Fraser. Although this is a very popular trail for walkers, joggers and bikers, this trail is several miles long and allows for people to spread out while cruising alongside the river.
Scenic Driving
There are a number of scenic roads to explore around the Grand County that will offer a needed escape from the indoors, whether seeing the sites by car or road bike. Take in views of the Rocky Mountains by summiting Berthoud Pass or by venturing up Willow Creek Pass toward Walden for a quiet look at the Rabbit Ears Range. For a shorter but breathtaking drive, take a trip along the Colorado River's edge with a ride through Byers Canyon outside Hot Sulphur Springs.
Fishing
Fisherman can also find plenty of water available to spread out and fish. As the lakes open up, so does the opportunity to hook a large lake trout. Cast a line at Williams Fork Reservoir outside of Parshall. This lake is not as well-known as Lake Granby or Grand Lake, so expect smaller crowds and ample space to fish. Fisherman can also cast a line into the mighty Colorado River in various spots along the shore outside of Parshall or below Shadow Mountain Dam.
Camping
Colorado's short-term lodging ban on private, government and reserved camping sites is scheduled to expire on May 21. Many campgrounds within the Arapahoe National Forest do not open until June 1 due to weather and seasonal conditions. Campers can find spots along the Colorado River at the Pumphouse or Radium Recreation Sites, although there is limited access to facilities. Dispersed camping spots are also available along Highway 125.
Dining
Along with the many activities available for outdoor recreation in Grand County, there are a number of local restaurants that are offering specials and carry-out service. Dean's Public House in Hot Sulphur Springs is making specialty pizzas and offering cocktails available for curbside pickup Thursday through Sunday. In Fraser, Sharky's Eatery is offering daily specials that include everything from boozy milkshakes to breakfast burritos. The brand-new Debbie's Drive-In in Granby has a selection of burgers and shakes that you can order from the car window. Many other restaurants around the county, including Azteca, The Granby Garage, Fontenots, Hernandos, Sagebrush, Elevation Pizza, Deno's Mountain Bistro and Java Lava are also offering curb-side pick-up and carryout.
Overall, Grand County is an excellent community to explore during this time of isolation. There are still opportunities to sample local dining options and experience the natural environment of the area through various outdoor activities. Social distancing while still getting a breath of fresh air is more than possible in this area, and outdoor enthusiasts can be reassured that the Grand County Tourism Board will continue to keep health and safety of visitors a top priority.
About Grand County, Colo. (http://www.visitgrandcounty.com)
Located 67 miles west of Denver, Grand County is home to wide-open spaces, breathtaking mountain scenery and authentic old-west towns. Outdoor recreational activities include golf, boating, fishing, biking, hiking, hunting, horseback riding, skiing, cross country skiing, snowmobiling, ice fishing, sleigh rides and tubing. The area features more than 600 miles of mapped and marked trails, one national park, two national forests, two wilderness areas, two national scenic byways, two major ski resorts, four world-class dude ranches and four mountain golf courses. Grand County's extensive water network includes Colorado's largest natural lake, 1,000 miles of streams, 1,000 acres of high-mountain lakes and 11,000 acres of reservoirs.
Contact:
Gaylene Ore, Ore Communications, gaylene@orecommunications.com, 970-531-2336