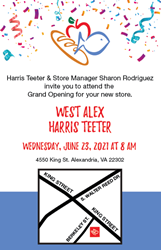 MATTHEWS, N.C. (PRWEB) June 10, 2021
Harris Teeter is proud to welcome shoppers to its West Alex location on Wednesday, June 23 at 8 a.m. as the company celebrates its grand opening.
The store will feature signature Harris Teeter amenities, including store made pizza; hot foods bar; sub shop; fresh sushi; ExpressLane Online Shopping; and Pharmacy.
In each of its stores, Harris Teeter strives to offer customers an excellent shopping experience, which begins with customer service and features high-quality products, variety and selection. Harris Teeter also works to be a true community partner by supporting local food banks, youth sports organizations and local schools, among other non-profit organizations.
Fast Facts
Store Address: 4550 King St. Alexandria, VA 22302
Square Footage: 72,000
Grand Opening Date: Wednesday, June 23, 2021
Grand Opening Time: 8 a.m.
Check-Out Lanes: 12 checkouts and 6 express checkouts
Store Hours: 6 a.m. to 11 p.m.
Store Features and Departments
USDA Certified Very Tender Dry Aged Beef • Fresh Store Made Burgers, Sausage & Kabobs • Full-Service Fishermans Market • Handmade Lobster Rolls • Full-Service Floral Department • Farmers Market Produce • Full-Service Fresh Foods Market Deli/Bakery • Sushi • Store Made Pizza • Sub Shop • American & Asian Hot Foods Bars • Build Your Own 6-Pack • Starbucks • Pharmacy • ExpressLane Online Shopping • Double Coupons • Club 60 Discount
Harris Teeter, with headquarters in Matthews, N.C., is a wholly-owned subsidiary of The Kroger Co. (NYSE: KR). The regional grocery chain employs approximately 35,000 associates and operates stores in North Carolina, South Carolina, Virginia, Georgia, Maryland, Delaware, Florida and the District of Columbia.