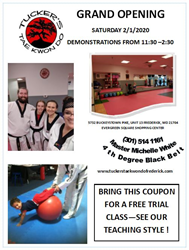 FREDERICK, Md. (PRWEB) January 28, 2020
Tucker's Taekwondo recently opened in a brand new location in the Evergreen Square Shopping Center near Common Market, just next door to Bike Doctor; 5732 Buckeystown Pike, Unit 13 Frederick, MD 21704. The fitness studio relocated from 1341 Hughes Ford Road where it was located for many years.
The studio is family friendly and is woman owned and operated by Michelle White, 4th degree Master in Taekwondo from Kukkiwon, Korea, as well as an ACE Certified Personal Trainer. A variety of group classes geared towards adults and children are offered, including 1) Taekwondo 2) Kick Fitness/Body Toning 3) Women's Self Defense and coming soon 4) Brazilian Jujitsu and 5) Cardio Bungee Workout.
Some of the reasons folks come to Tucker's Taekwondo studio are:

students meet their goals & feel accomplished
instructor is highly motivating, good with groups and kids, patient with beginners
students enjoy class atmosphere and have fun
instructor has passion for small group fitness and a desire to help each person in the class flourish
students feel good after workouts and comment on increased self-esteem and confidence
instructor pushes students to maximize their own personal abilities and is aware of limitations
self-discipline, respect, focus, courage, dedication, confidence and perseverance are a few of our core values
The class schedule can be found on our website: http://www.tuckerstaekwondofrederick.com
Master Michelle takes students to Maryland State Taekwondo Championships, where numerous gold, silver and bronze medals have been won. Several students that qualified among the many to compete nationally did so in 2019 & 2014. In 2019 two (2) students won silver and bronze medals in breaking representing Tucker's Taekwondo in Minneapolis, MN. In 2014 one (1) student won a bronze medal representing Tucker's Taekwondo in San Jose, CA.
Later this year, Master Michelle is scheduled to test for her 5th Dan.