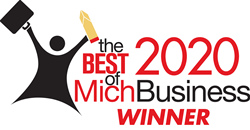 "I'm humbled by the incredible individuals we have on the Service Express team and the camaraderie that is created during this time. Thank you to the entire team for your hard work and dedication."
GRAND RAPIDS, Mich. (PRWEB) December 10, 2020
West Michigan-based company Service Express has been featured in the Best of MichBusiness Awards. This year's awards program honors the companies that made a difference in 2020 by showing outstanding leadership in a time of crisis and economic uncertainty.
Once the pandemic became more widespread in March, Service Express quickly transitioned to remote work with the help of its IT department by providing equipment, setting up remote access and more. Leaders supported their teams unique and changing situations in terms of daycare, at-home schooling and setting up a functional home office. Service Express President and CEO Ron Alvesteffer continue to share communication to the entire company regarding current COVID policies, leadership, CDC updates and more.
"Despite the changes we have faced this year, our people remain the highest priority," says Ron Alvesteffer. "I'm humbled by the incredible individuals we have on the Service Express team and the camaraderie that is created during this time. Thank you to the entire team for your hard work and dedication."
The 2020 award aims to recognize the programs and companies that make Michigan a great place to live and work. Service Express is honored to be alongside eight businesses in the large category. To learn more about the virtual event, visit HTTP://MichBusiness.
About MichBusiness
For more than three decades, the Michigan Business and Professional Association, now known as MichBusiness, has a mission and history of successful business partnerships that have positively impacted more than 15,000 businesses. Through interactive programs, affiliates, and sister companies, professionals and leaders in its statewide business community have been able to apply the tools and opportunities to organizations to make businesses better. For more information, visit HTTP://michbusiness.com.
About Service Express
As a leading third-party maintenance (TPM) provider, Service Express specializes in onsite data center support for server, storage and network equipment to help IT teams control costs and optimize infrastructure strategy. Customers can manage, monitor and automate support with ExpressConnect®. Founded in 1993, Service Express maintains multivendor data center equipment for healthcare, manufacturing, education, finance, government, technology and other Fortune 500 companies worldwide.
In addition to post-warranty maintenance, Service Express offers hardware system and sales solutions, OS support, IT asset disposition and data center relocations. For more information, visit HTTP://serviceexpress.com.