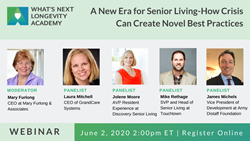 "We have brought together the best of the best in terms of vision, innovation and education in the longevity market," said Furlong, creator and founder of the What's Next Longevity Academy.
WEST BEND, Wis. (PRWEB) June 01, 2020
Laura Mitchell, CEO of GrandCare Systems and Principal of LMC, has been selected to speak on June 2nd at 2pm ET for the What's Next Longevity Academy, a star-studded virtual learning experience for the senior living industry.
The session titled, "A New Era for Senior Living-How Crisis Can Create Novel Best Practices," will highlight the various challenges and opportunities that this pandemic has presented to technology, senior housing providers and nonprofit aging organizations. Attendees can expect to discover:

How GrandCare is using the Covid-19 crisis as a launching point for real change and how it is using new technologies to drive new engagement from the bottom up.
About Discovery Senior Living's mission to inspire residents with innovative programs and new technologies that can enhance life and promote an active, healthy lifestyle.
How Touchtown's dedication to enhancing resident engagement through technology is driving the "new normal" for senior living and driving up that engagement by 8500%. Learn about the importance of having a strong partner to guide new technology roll-outs as well as having a broad network of distribution channels through which existing resources in the community can be leveraged.
How the Army Distaff Foundation (ADF) is using its nonprofit platform to integrate new healthcare technologies like laboratory capabilities to test 100% of their senior population and caregiver workforce, a robot lobby assistant pilot project, and a pilot to develop a new health and wellness kiosk to screen residents and visitors upon entering the community.
Joining Mitchell on the panel are fellow industry thought leaders, Jolene Moore of Discovery Senior Living, Mike Rethage of Touchtown, and James Michels of Army Distaff Foundation. The virtual academy is hosted and produced by Mary Furlong, CEO of Mary Furlong & Associates.
"We have brought together the best of the best in terms of vision, innovation and education in the longevity market," said Furlong, creator and founder of the What's Next Longevity Academy and other industry events. "GrandCare has been involved with MFA summits since 2008 and Laura was my 2011 MFA Silicon Valley Venture Summit Flame Award winner. It's been exciting to see her evolve into a thought leader in the longevity space."
"I am honored to be able to speak at this 'must-attend' industry event," said Mitchell. "I've been involved in the connected health and aging industry for the past 15 years and Mary's events are ones that I continuously come back to for the valuable networking and educational opportunities. I appreciate her mentorship and friendship over the years."
The Academy is a virtual learning experience created by Mary Furlong & Associates. Registrants to the popular What's Next Longevity Business Summit, which was canceled due to the COVID-19 pandemic, have been given exclusive access to this virtual learning webinar series. The theme is COVID-19: From Flattening the Curve to Fueling Innovation.
All Longevity Venture Summit registrants will have full access to the What's Next Longevity Academy panels and recorded sessions. Simply sign up here: https://www.eventbrite.com/e/17th-annual-whats-next-longevity-venture-summit-virtual-tickets-96604248909 20% off with discount code: SVSummit2020
#LongevitySummit #SeniorLivingNewEra #PostCOVIDSeniorLiving
ABOUT GRANDCARE SYSTEMS
GrandCare, on the market since 2005, is designed to reduce hospitalizations, manage health conditions and keep individuals more independent and connected to their loved ones. The heart of GrandCare is a large touchscreen appliance, which provides the individual with social communications, games, music, instructions, reminders and medication prompts. Optional telehealth & activity devices can wirelessly report information and remotely send email, text and phone alerts to caregivers if something seems amiss. No computer skills are needed for the resident. GrandCare is utilized by family caregivers, professional in-home care organizations, senior housing communities and disability providers. For more information, visit: http://www.grandcare.com, call 262-­338-6147, or contact sales@grandcare.com.
ABOUT MARY FURLONG AND ASSOCIATES
Founded in 2003 with a headquarters in San Francisco, Mary Furlong & Associates (MFA) is an event producer and consulting firm for corporations in the healthcare and longevity marketplace. MFA produces four market-leading conferences each year – the What's Next Longevity Business Summit, the What's Next Longevity Venture Summit, the Washington Innovation in Longevity Summit and the What's Next Canada Conference which is co-produced by the Centre for Aging + Brain Health Innovation (CABHI). The events serve private clients, corporations, investors, nonprofits and entrepreneurs in learning and sharing about the longevity market. MFA has an online store, a market-leading newsletter that reaches influencers, and they produce virtual events as part of their Academy.