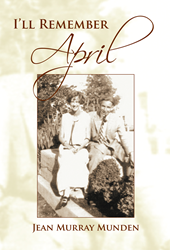 SURREY, B.C (PRWEB) October 15, 2018
SURREY, B.C. – Love is wonderful, but it often demands sacrifice, dedication and understanding. Author Jean Murray Munden has written her first novel, "I'll Remember April," which shows that sometimes people must look back into the past to understand what love really means.
Set at the beginning of the Great War, Munden's book introduces readers to Louise Ferris, an elderly woman whose beloved granddaughter comes to her with a problem of the heart. Her granddaughter's story prompts Louise to reflect on her own life and past loves.
Munden's love for writing and character development ultimately led her to write the book. "I've always taken pleasure in creating and telling stories since I was a teenager. One day, the characters in this story came to me out of the blue," she said. "I couldn't stop writing down their story. Thus, the book was born."
One Amazon reviewer describes their experience reading the book: "The story pulled me in so quickly. . . I discovered I wanted to read more. After getting my copy, I didn't want to put it down."
"I've written so many tales but never thought I would be able to publish them," Munden said. "I'm excited to share this story with readers and I hope they adore this book as much as I loved writing it."
Readers are sure to delight in "I'll Remember April," the heartwarming and touching tale of a love story that spans 70 years and three generations of a family.
"I'll Remember April"
By Jean Murray Munden
ISBN: 978-1425715328 (softcover); 978-1465314833 (electronic)
Available at the Xlibris Online Bookstore, Amazon and Barnes & Noble
About the author
Jean Murray Munden says she has enjoyed writing stories for most of her life. "I'll Remember April" is her first published book. She is a retired nurse with a family of three stepchildren, four grandchildren and a great-grandchild. She lives in South Surrey, British Columbia. To learn more about Munden and her book, please visit http://jeanmurraymunden.com.
Contact:
LAVIDGE – Phoenix
Kalin Thomas
480-648-7540
kthomas(at)lavidge(dot)com