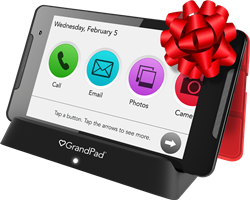 We hear stories every day about how powerful and life changing these connections are, and we are immensely proud to bring families together in this way and to help reduce loneliness and isolation.
ORANGE, Calif. (PRWEB) December 01, 2020
At a time when staying safely connected is more essential than ever, GrandPad is proud to announce that it has created connections for more than 1 million seniors, family members, friends, and caregivers through the GrandPad purpose-built tablet, GrandPad Central web portal, and Family Companion App. These connections come from 110 countries around the world and represent the number of people who are connected through GrandPad.
"Our mission is to improve the lives of seniors everywhere by reconnecting them with their friends, family, and caregivers. We hear stories every day about how powerful and life changing these connections are, and we are immensely proud to bring families together in this way and to help reduce loneliness and isolation," said Scott Lien, co-founder and CEO of GrandPad.
The design and interface of GrandPad empowers people of all ages and abilities to use technology to stay connected and to engage with their community and activities that bring them joy. In fact, according to Lien, the average GrandPad user is 84 years old and the oldest is 116.
By working with an internal team of Grand Advisors, the company has been able to engineer out the common points of frustrations that seniors and people with cognitive impairments often experience when using technology. The result is a device that is fun and easy to use. For example, Lien added that GrandPad customers use their tablets an average of nearly 7 hours a week and more than 26 hours a month.
"What struck us was how easy it was to get started and connect our whole, big family to our mom. Our mom is 90 and used to say 'Me and technology don't get along.' But the GrandPad was so different. The day it came in the mail, her photos and contacts were already on there; everyone she wants to talk to but no telemarketers or scammers can reach her. The day she got it, she pressed one button to video call me. We both cried. It's made all the difference during COVID. We had a virtual Thanksgiving with all of us, and because of GrandPad, she is looking forward to Christmas," said GrandPad user KC Redmond of Ennis, Montana.
The following features are notable design differentiators that make GrandPad a favorite technology gift for older adults and people who have difficulty using traditional mobile devices:

Ready to use, right out of the box — no setup required.
Enables pre-loaded "trusted circle" of family contacts, photos, and apps
Built-in LTE (no home WiFi needed)
7x24 always-on, live, personal tech support
Closed network for greater security (no one outside the "trusted circle" can contact a GrandPad user)
Secure internet browsing
Video and voice calling
Texting and emailing
Family photo and video sharing
Curated entertainment content, music, and brain games
Streaming radio stations
Ergonomic design and enhanced speakers and camera
Transportation by Lyft app
To learn more or to purchase GrandPad, visit https://buy.grandpad.net/.
For more information:
Barbara Tabor, APR / (651) 230-9192 / barbara@taborpr.com
About GrandPad
Based in Orange, CA, GrandPad is a digital health company that develops engagement solutions to improve the health and well-being of older adults by reconnecting them to families, friends, and caregivers through technology that is safe, reliable, and easy to use. The GrandPad purpose-built tablet for people over the age of 75 -- the first mobile device of its kind -- addresses usability, security, and connectivity issues that are often roadblocks for integrating remote monitoring and telehealth into professional and familial caregiving settings. The company's secure cloud platform with built-in LTE and web applications allows care teams and family members to engage remotely with older adults without depending on WiFi connectivity. GrandPad enables a variety of interactions, including video calls, sharing essential care-related emails and messages, and conducting multi-party video care conferences between family members and a patient's continuum of caregivers. For professional caregivers, GrandPad offers connected device capabilities that support enhanced telehealth and remote monitoring services provided by a growing number of in-home healthcare organizations. To learn more, visit GrandPad.net or connect with us on LinkedIn, Facebook, and Twitter @grandpad_social.