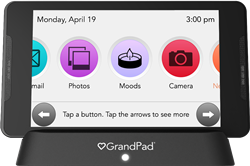 With the Moods app, users can find relaxation and comfort in visually stunning and immersive audiovisual scenery, which is a perfect way to help improve overall mood and promote relaxation.
MINNEAPOLIS (PRWEB) May 11, 2021
Just in time for Mental Health Awareness Month, GrandPad, creator of the first purpose-built tablet designed for older adults, has introduced the Moods app. A free app that is available to all GrandPad tablet users, Moods delivers a curated selection of immersive audiovisual environments to promote relaxation, comfort, and improve mental health in older adults.
The state of mental health in America was declining before COVID-19, and since the beginning of 2020 rates of anxiety and depression have increased. In fact, it's estimated that more than 2 million adults over the age of 65 suffer from some form of depression, which can be exacerbated by factors like declining health, widowhood, and isolation. Considering that approximately 40 million people are over the age of 65, and that number is expected to increase to 75 million by the year 2060, supporting the mental health and well-being of our aging community is crucial.
"Research has shown that sight and sound are incredibly powerful in stimulating cognition and reducing stress and anxiety," said Scott Lien, co-founder and CEO of GrandPad. "The Moods app is the latest addition to our growing family of apps that support mental well-being by delivering a variety of virtual environments that are pleasing and relaxing to people of all ages."
In addition to the Moods app, GrandPad's array of senior-friendly apps includes games, streaming music, local radio stations, a private family photo and video stream, and educational content features designed to keep users engaged and connected.
With the Moods app, older adults can enjoy the calm serenity of an aquarium, the warm crackling of a fireplace, the beauty and sounds of nature, and many more scenic escapes. Users can find relaxation and comfort in visually stunning and immersive audiovisual scenery, which is a perfect way to help improve overall mood and promote relaxation. For example, studies have shown that listening to nature sounds or to ocean waves can help seniors fall asleep faster and it can also help them to sleep for longer periods of time.
GrandPad is the first purpose-built tablet for older adults. The device has been specifically designed around the input of seniors, for their specific needs and technology capabilities. GrandPad offers the following features that can help seniors and families stay connected in a safe and simple way:

Ready to use, right out of the box — no setup required
Enables pre-loaded "trusted circle" of contacts for the senior
Built-in LTE (no home WiFi needed)
24x7 always-on, live, personal tech support
Closed network for greater security (no one outside the "trusted circle" can contact a GrandPad user)
Secure internet browsing
Video and voice calling
Multi-party Zoom calling (currently being rolled out on a limited basis)
Texting and emailing
Family photo and video sharing
Curated entertainment content, music, and brain games
Streaming radio stations
Ergonomic design and enhanced speakers and camera
To learn more about streaming radio and other features that are available on the GrandPad, visit https://GrandPad.net.
About GrandPad
Based in Minneapolis, GrandPad is a digital health company that develops engagement solutions to improve the health and well-being of older adults by reconnecting them to families, friends, and caregivers through technology that is safe, reliable, and easy to use. The GrandPad purpose-built tablet for people over the age of 75 -- the first mobile device of its kind -- addresses usability, security, and connectivity issues that are often roadblocks for integrating remote monitoring and telehealth into professional and familial caregiving settings. The company's secure cloud platform with built-in LTE and web applications allows care teams and family members to engage remotely with older adults without depending on WIFI connectivity. GrandPad enables a variety of interactions, including video calls, sharing essential care-related emails and messages, and conducting multi-party video care conferences between family members and a patient's continuum of caregivers. For professional caregivers, GrandPad offers connected device capabilities that support enhanced telehealth and remote monitoring services provided by a growing number of in-home healthcare organizations. To learn more, visit GrandPad.net or connect with us on LinkedIn, Facebook, and Twitter @grandpad_social.