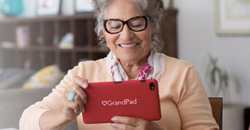 The only gift that moms and grandmas really want is more time with their families, but when being together in person isn't possible, a video chat on GrandPad is the next best thing.
MINNEAPOLIS (PRWEB) April 07, 2022
Give mom or grandma what she really wants for Mother's Day this year: More time with her loved ones. GrandPad announced today that it will discount the price of its purpose-built tablet for people over the age of 75 beginning April 11 through May 8, with its deepest discount being offered on April 23 during its one-day Super Mom Saturday Sale.
"GrandPad is the perfect solution for Mother's Day gift giving because it gives moms and grandmas the ability to safely and securely connect with their loved ones anytime, anywhere," said Scott Lien, co-founder and CEO of GrandPad. "The only gift that moms and grandmas really want is more time with their families, but when being together in person isn't possible, a video chat on GrandPad is the next best thing."
Beginning April 11, families who are shopping for Mother's Day can receive $100 off a new, annual GrandPad subscription and on April 23, during the Super Mom Saturday Sale, shoppers will receive $150 off a new, annual subscription. The $100 discount will be available until May 8. In addition to discounted pricing, anyone who purchases a GrandPad subscription for Mother's Day by visiting GrandPad.net or by calling 1-888-904-4723, will receive a second hands-free charging cradle at no cost.
GrandPad became a lifeline for families around the world during COVID-19 safety restrictions and social distancing and today, more than 1.3 million people – including seniors and their families, friends, and caregivers – in over 120 countries use GrandPad to stay connected. The tablet and free Companion App consistently receive high consumer satisfaction ratings. With more than 600,000 downloads of its Companion App on two leading app platforms, GrandPad holds a 4.9 Star Rating average across more than 12,000 reviews on the Apple App Store, and a 4.7 Star Rating across approximately 2,600 reviews on the Google Play store.
5 reasons GrandPad is the best tablet for Mother's Day
Unlike standard mobile devices or tablets, GrandPad was designed based on the input of seniors, so it meets their specific needs and technology capabilities. Following are a few of the most-loved GrandPad features.

It's more than a tablet, it's a personalized service — GrandPad users receive a level of personalized support that is rarely found with technology products. At any time, day or night, the GrandPad user can press the red "help" button on their GrandPad and within seconds they will be directly connected to a GrandPad Member Experience Agent who knows them and is eager to help. Users never have to remember account numbers, sit on hold, or navigate a customer service menu.
Easy to use for people with arthritis, tremors, or dexterity issues — GrandPad comes ready to use, right out of the box, with no setup required. It boasts an ergonomic design, enhanced, front-facing speakers and camera, and a hands-free charging cradle.
Creates a "circle of trust" around seniors and gives peace of mind to caregivers — GrandPad comes pre-loaded to the senior with a "trusted circle" of family contacts, photos, and apps. It features a unique, closed network for greater security (no one outside the "trusted circle" can contact a GrandPad user), and offers private social networking with family and friends via GrandPad's free Companion App. Despite the closed environment, seniors can enjoy secure internet browsing and always have access to 24-hour personal support at the touch of a button.
Provides reliable, always-on internet access at no extra cost — Most seniors over the age of 75 do not have home internet, while those who live in assisted living or skilled nursing facilities often experience limited or spotty Wi-Fi and may require staff assistance to access the network. GrandPad solves this challenge with built-in 4G LTE connectivity in every device. There are no additional costs or contracts required to enjoy this always-on internet access.
Reconnects seniors with family, friends, and caregivers — Seniors of all ages can participate in simple, secure video and multi-party Zoom calling. GrandPad also features easy-to-use voice-enabled texting and emailing for people who have difficulties using a touchscreen. In addition, secure family photo and video sharing ensures that seniors never miss a moment of their loved ones' lives.
To learn more about GrandPad and to take advantage of special Mother's Day pricing, visit GrandPad.net.
###
About GrandPad
Based in Minneapolis, GrandPad is a digital health company that develops engagement solutions to improve the health and well-being of older adults by reconnecting them to families, friends, and caregivers through technology that is safe, reliable, and easy to use. The GrandPad purpose-built tablet for people over the age of 75 — the first mobile device of its kind — addresses usability, security, and connectivity issues that are often roadblocks for integrating remote monitoring and telehealth into professional and familial caregiving settings. The company's secure cloud platform with built-in LTE and web applications allows care teams and family members to engage remotely with older adults without depending on WiFi connectivity. GrandPad enables a variety of interactions, including video calls, sharing essential care-related emails and messages, and conducting multi-party video care conferences between family members and a patient's continuum of caregivers. For professional caregivers, GrandPad offers connected device capabilities that support enhanced telehealth and remote monitoring services provided by a growing number of in-home healthcare organizations. To learn more, visit GrandPad.net or connect with us on LinkedIn, Facebook, and Twitter @GrandPad_social.
Media contact: Barbara Tabor, APR 651.230.9192 barbara@taborpr.com