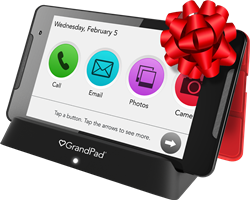 We realize the importance of choice and simplicity when it comes to purchasing products online, and our new e-commerce site offers both.
ORANGE, Calif. (PRWEB) September 14, 2020
Since early this year, GrandPad has been a lifeline for families around the world who have used the purpose-based tablet designed exclusively for older adults to stay connected during COVID-19 isolation periods and physical distancing. Today, the company announced that it has launched a new e-commerce site that gives individuals and families expanded options for purchasing GrandPad for themselves or a loved one -- including direct through the company.
"We realize the importance of choice and simplicity when it comes to purchasing products online, and our new e-commerce site offers both," said Scott Lien, co-founder and CEO of GrandPad. "Families who are interested in buying GrandPad for a loved one during the upcoming holiday season, or simply to remain connected during flu season and continued COVID-19 concerns, can still do so through our distribution partners like Consumer Cellular and TechSilver, but now they can also purchase direct through GrandPad in a few simple steps."
The new online ordering capability is available at https://buy.grandpad.net/.
"Introducing a direct sales option is a natural progression in the evolution of our company, and it gives older adults and their families additional options for purchasing GrandPads," said Lien. "Our mission is to improve the lives of millions of seniors by keeping them connected to family, friends, and caregivers, and to achieve that, we need to have sales and distribution options that work for people around the world. The new site capability is another step toward this goal."
GrandPad has been designed around the input of seniors, to meet their specific needs and technology capabilities. GrandPad offers the following features that can help seniors and families stay connected in a safe and simple way, including:

Ready to use, right out of the box — no setup required.
Enables pre-loaded "trusted circle" family contacts, photos, and apps.
Built-in LTE (no home WiFi needed).
Closed network for greater security (no one outside the "trusted circle" can contact a GrandPad user).
Secure internet browsing.
Private social networking with family and friends via GrandPad's free companion app.
Video and voice calling.
Easy-to-use voice-enabled texting and emailing.
Family photo and video sharing.
Curated entertainment content (music and TV) and brain games.
Streaming radio.
Ergonomic design and enhanced speakers and camera.
Transportation by Lyft app.
24-hour personal support.
To learn more, visit http://www.GrandPad.net.
About GrandPad
Based in Orange, CA, GrandPad is a digital health company that develops engagement solutions to improve the health and well-being of older adults by reconnecting them to families, friends, and caregivers through technology that is safe, reliable, and easy to use. The GrandPad purpose-built tablet for people over the age of 75 -- the first mobile device of its kind -- addresses usability, security, and connectivity issues that are often roadblocks for integrating remote monitoring and telehealth into professional and familial caregiving settings. The company's secure cloud platform with built-in LTE and web applications allows care teams and family members to engage remotely with older adults without depending on WiFi connectivity. GrandPad enables a variety of interactions, including video calls, sharing essential care-related emails and messages, and conducting multi-party video care conferences between family members and a patient's continuum of caregivers. For professional caregivers, GrandPad offers connected device capabilities that support enhanced telehealth and remote monitoring services provided by a growing number of in-home healthcare organizations. To learn more, visit GrandPad.net or connect with us on LinkedIn, Facebook, and Twitter @grandpad_social.