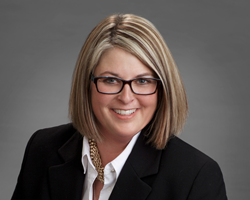 It is a true privilege to lead such a talented team and to collaborate with partners who are committed to improving the quality of life for older adults who might otherwise be left behind by technology.
MINNEAPOLIS (PRWEB) April 07, 2021
GrandPad, creator of the first purpose-built tablet for seniors over the age of 75, announced today that Julie Ament Gran has been promoted to the position of chief growth officer. Headquartered in Minneapolis with offices in southwest Minnesota, California, Iowa, South Carolina, and Ireland, GrandPad delivers its custom-built tablet to individuals and families and to commercial users, including clinical care organizations, home health and companion care companies, and area agencies on aging. In her new position at GrandPad, Ament Gran will lead the expansion of GrandPad to these commercial partners.
GrandPad is custom built to meet the needs and interests of seniors who have had limited experience with technology, who have no or limited access to the internet, and who may have physical or cognitive limitations that make traditional mobile devices difficult to use.
"Innovative healthcare organizations realize the important role technology plays in keeping seniors connected with loved ones and their communities, while maintaining continuity of care and services," said Scott Lien, co-founder and CEO of GrandPad. "Over the past year, Julie has been instrumental in helping our commercial partners successfully integrate GrandPad into their telehealth strategies and I'm confident she will continue to guide our growth in this area as we collectively navigate through the pandemic and the dissemination of the COVID-19 vaccine."
GrandPad became a lifeline for families and caregivers around the world during COVID-19 safety restrictions and physical distancing, while also meeting an immediate need among senior care and healthcare companies in search of solutions that would allow them to continue to deliver clinical care and supportive services to seniors and at-risk populations across the country. Currently, more than 1.2 million people in over 120 countries use GrandPad to stay connected with loved ones.
"Our mission at GrandPad is to improve the lives of millions of seniors by reconnecting them with family, friends, and caregivers. It is a true privilege to lead such a talented team and to collaborate with partners who are committed to improving the quality of life for older adults who might otherwise be left behind by technology," said Ament Gran.
As the COVID-19 pandemic hit the United States in early 2020, Ament Gran was instrumental in working with healthcare organizations like the National PACE Association to successfully implement telehealth strategies for at-risk seniors. PACE organizations provide primary, acute, and long-term care services to 54,000 individuals at 263 locations in 31 states. PACE participants are at least 55 years old and have been certified to need nursing home care. Most are at elevated risk of complications from COVID-19 due to age or underlying medical conditions, and many may be isolated from friends and family as a result of the pandemic, putting them at risk for additional health problems. GrandPad was named the preferred telehealth provider for the National PACE Association last year, thanks in part to Ament Gran's leadership.
"During the early stages of the pandemic, as PACE organizations quickly took steps to prevent exposure to COVID-19 among their participants by reorganizing the provision of comprehensive services entirely in their homes, it became clear that we needed to find and put in place technology that supported both the social engagement needs of participants and the care management efforts by PACE staff," said Shawn Bloom, president and CEO, National PACE Association. "After an exhaustive search for and assessment of telehealth products suitable for frail older adults, the PACE community of providers enthusiastically adopted GrandPad. The product has exceeded the expectation of both those we serve and the PACE staff who have worked tirelessly to meet their needs this past year."
Prior to her recent promotion, Ament Gran was the vice president of member experience and partner relations at GrandPad. Before joining the company in 2019, Ament Gran was vice president of field operations for Lifetouch National School Studios a Shutterfly Company, and vice president of special services for Macy's North. Ament Gran earned a Bachelor of Arts from the University of Minnesota in Minneapolis.
"I've been fortunate to have had a number of meaningful relationships with older adults in my life and I will always appreciate the diverse knowledge and wisdom they were able to share with me," said Ament Gran. "The ability to support that kind of relationship for others and to be part of a team that celebrates and honors the contributions of older adults is a blessing and a responsibility that I look forward to fulfilling every day."
###
About GrandPad
Based in Minneapolis, GrandPad is a digital health company that develops engagement solutions to improve the health and well-being of older adults by reconnecting them to families, friends, and caregivers through technology that is safe, reliable, and easy to use. The GrandPad purpose-built tablet for people over the age of 75 -- the first mobile device of its kind -- addresses usability, security, and connectivity issues that are often roadblocks for integrating remote monitoring and telehealth into professional and familial caregiving settings. The company's secure cloud platform with built-in LTE and web applications allows care teams and family members to engage remotely with older adults without depending on WiFi connectivity. GrandPad enables a variety of interactions, including video calls, sharing essential care-related emails and messages, and conducting multi-party video care conferences between family members and a patient's continuum of caregivers. For professional caregivers, GrandPad offers connected device capabilities that support enhanced telehealth and remote monitoring services provided by a growing number of in-home healthcare organizations. To learn more, visit GrandPad.net or connect with us on LinkedIn, Facebook, Instagram, and Twitter.