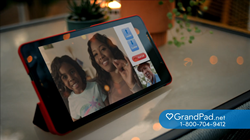 During the holidays, and every day, we encourage everyone to take five minutes out of their day to call, video chat, text, or even email a senior — it's a small act that can make an incredible impact in their life.
MINNEAPOLIS (PRWEB) December 07, 2021
The number of older adults who say they feel isolated has more than doubled since 2018, and for many, those feelings of loneliness increase during the holidays. Fortunately, studies show that video calling can decrease loneliness among seniors. That's why GrandPad, creators of the first purpose-built tablet for people over the age of 75, has released "12 Ways to Spread Joy to Seniors," a compilation of creative ways to connect and engage with elderly adults.
"The value of simple, everyday, human interaction has been made exceedingly clear during the prolonged COVID-19 pandemic. Unfortunately, too many seniors who are in their 80's, 90's, and above go without these precious moments because they are digitally disconnected," said Scott Lien, co-founder and CEO of GrandPad. "During the holidays, and every day, we are working to raise awareness for this issue and encourage everyone to take five minutes out of their day to call, video chat, text, or even email a senior — it's a small act that can make an incredible impact in their life."
12 Ways to Spread Joy to a Senior
GrandPad offers the following 12 Ways to Spread Joy to a Senior that families and caregivers anywhere can participate in. These activities range from quick and easy interactions that individuals of all ages can enjoy, to intergenerational activities for families.

Take 5 minutes to make a phone call or video call. GrandPad features a proprietary one-to-one video calling app, as well as multi-party Zoom calling on all GrandPad tablets.
Send a card or letter every day until January 1. Traditional mail is a wonderful way to make someone feel special and, for seniors who are in assisted living or skilled nursing facilities, personal letters may be few and far between.
Conduct a virtual tour of the holiday lights in your neighborhood or the holiday decorations in your home. Use the GrandPad Companion App or other device to share the holiday lights with your senior.
Take a senior virtual tree shopping, if you celebrate Christmas or share a virtual walk after a fresh snow. When the weather turns cold and sidewalks become icy, seniors often become homebound to avoid risk of injury. Help them enjoy the great outdoors by using the Family Companion App or posting photos and video to the family photo stream of a virtual trip to your local tree farm or a walk in the new-fallen snow.
Set up a family and friends calling campaign, where each member of your trusted circle of contacts calls your super senior on a designated day. Family members of all ages can take part in this activity that ensures your aging loved one will be surrounded with social interaction during the holidays. GrandPad features both simple video calling and voice calls that are easy for seniors to use.
Include your super senior in holiday baking or food prep. Use the GrandPad Companion App and the multi-party Zoom feature to include family of all ages in cookie baking or preparing food for your holiday meal.
Create a digital family scrapbook of photos from holidays past. The GrandPad private family photo stream is the perfect way to safely and securely share treasured family memories. The family photo stream is seen only by those in your trusted circle of contacts.
Create a digital holiday music playlist and share it with your super senior. Music has numerous therapeutic benefits for elderly adults, including supporting cognitive health for people with Alzheimer's disease. A walk down musical memory lane can also be a good way to turn holiday blues into joy and feelings of gratitude. GrandPad features streaming radio stations, a proprietary GrandPad Radio station, and access to more than 30 million ad-free songs from a wide variety of musical genres.
Attend a virtual worship service with the whole family. Group worship activities were hit hard by the pandemic, but video technology has bridged that gap. Share a link to your favorite worship service and invite your whole family to attend together.
Conduct a virtual holiday sing-along with your family and friends either in real time or by sending short video recordings in your family group. The GrandPad family photo stream is ideal for sharing audio or video recordings. Simply gather your troop, pick a song, press record, and share to your beloved senior and family members. You can also host a live sing along via video call.
Dress up the family pets and host a virtual holiday pet parade. Pets bring joy and companionship to our everyday lives, and when you add a set of antlers, Santa hat, or holiday sweater, it's cuteness overload and smiles for days — especially when you share those photos in your family photo stream.
Host a virtual holiday celebration via Zoom and share memories of holidays past, enjoy a virtual meal together, and if appropriate, open gifts together. Whatever day your family chooses to celebrate, a video-based celebration ensures that all will be able to participate.
To learn more about purchasing a GrandPad subscription or to take advantage of the latest holiday deals, visit GrandPad.net or call 1-800-704-9412, 24 hours a day, 365 days a year.
About the purpose-built GrandPad tablet
The GrandPad purpose-built tablet for people over the age of 75 became a crucial connection for seniors, family members, friends, and caregivers since the onset of COVID-19. The GrandPad tablet was designed specifically to accommodate the physical and cognitive capabilities of elderly seniors. It is currently being used to connect more than 1.3 million people — including seniors, family members, friends, and caregivers — in more than 120 countries worldwide.
GrandPad offers the following features that can help seniors and families stay connected in a safe and simple way:
Ready to use, right out of the box — no setup required
Enables pre-loaded "trusted circle" of family contacts, photos, and apps
Built-in LTE (no home WiFi needed)
Closed network for greater security (no one outside the "trusted circle" can contact a GrandPad user)
Secure internet browsing
Video and voice calling
Texting and emailing
Family photo and video sharing
Curated entertainment content (music and TV) and brain games
Streaming radio
Ergonomic design and enhanced speakers and camera
24-hour personal support
About GrandPad
Based in Minneapolis, GrandPad is a digital health company that develops engagement solutions to improve the health and well-being of older adults by reconnecting them to families, friends, and caregivers through technology that is safe, reliable, and easy to use. The GrandPad purpose-built tablet for people over the age of 75 — the first mobile device of its kind — addresses usability, security, and connectivity issues that are often roadblocks for integrating remote monitoring and telehealth into professional and familial caregiving settings. The company's secure cloud platform with built-in LTE and web applications allows care teams and family members to engage remotely with older adults without depending on WiFi connectivity. GrandPad enables a variety of interactions, including video calls, sharing essential care-related emails and messages, and conducting multi-party video care conferences between family members and a patient's continuum of caregivers. For professional caregivers, GrandPad offers connected device capabilities that support enhanced telehealth and remote monitoring services provided by a growing number of in-home healthcare organizations. To learn more, visit GrandPad.net or connect with us on LinkedIn, Facebook, and Twitter @GrandPad_social.
Media contact:
Barbara Tabor,
APR 651.230.9192
barbara@taborpr.com