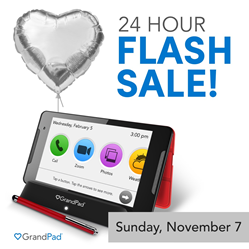 The GrandPad tablet and apps have been designed for and tested by seniors, so they get all the benefits of modern devices, without the points of technology frustration that are common as we age.
MINNEAPOLIS (PRWEB) November 03, 2021
Holiday shopping is here and with it comes anticipated record high levels of product stock outs caused by continued supply chain problems and shipping delays. To help families get ahead of the holiday shopping curve and save money, GrandPad will offer its deepest discount ever, for one-day only on November 7. The GrandPad Silver Sunday promotion will give anyone who purchases a new, one-year GrandPad subscription an Instant Grand Rewards savings of $200, which brings the subscription price to just under $42 per month.
The Silver Sunday discount is applied at the time of purchase, only on November 7. Subscriptions can be purchased online at GrandPad.net or by calling toll-free 1-800-704-9412.
GrandPad, the purpose-built tablet designed for seniors over the age of 75, became a lifeline for families around the world during COVID-19, helping them stay connected during safety restrictions and social distancing. As uncertainty about gathering in person for holiday celebrations persists this year due to the pandemic, it's important that families are prepared with the right technology. The GrandPad Silver Sunday sale will help accomplish this.
"Isolation and loneliness have long been factors for seniors, and the pandemic has only intensified the situation. While technology can ease the problem, not every senior has the same access to or ability to use technology," said Scott Lien, co-founder and CEO of GrandPad. "That's why every GrandPad comes with built-in 4G LTE connectivity, so it can be used with or without home internet. Meanwhile, the tablet itself and all of our apps have been designed for and tested by seniors, so they get all of the benefits of modern devices, without the points of technology frustration that are common as we age."
According to Lien, more than 1.3 million people — including seniors, their family members, friends, and caregivers — in over 120 countries currently use GrandPad to stay connected.
Following are a few of the most popular features and benefits of the GrandPad tablet.

It's more than a tablet, it's a personalized service — GrandPad users receive a level of personalized support that is rarely found with technology products. At any time, day or night, the GrandPad user can press the red "help" button on their GrandPad and they will be directly connected to a GrandPad Member Experience Agent who knows them and is always ready to talk to them. GrandPad Member Experience Agents also provide regular check-ins with users and family administrators to ensure the senior user's needs are being met.
Easy to use for people with arthritis, tremors, or dexterity issues — GrandPad comes ready to use, right out of the box, with no setup required. It boasts an ergonomic design, wireless charging cradle, easy-grip protective case, and a specially fabricated touchscreen that responds to dry skin (a natural side effect of aging that makes it difficult to use traditional touchscreen technology) .
GrandPad protects seniors from online scams and fraud — GrandPad comes pre-loaded to the senior with a "trusted circle" of family contacts, photos, and apps. It features a unique, closed network for greater security (no one outside the "trusted circle" can contact a GrandPad user), and offers private social networking with family and friends via GrandPad's free Companion App. Despite the closed environment, seniors can enjoy secure internet browsing and always have access to 24-hour personal support with the touch of a button.
Home internet or WiFi access is not required — Many seniors over the age of 75 do not have home internet, while those who live in assisted living or skilled nursing facilities often experience limited or spotty WiFi and may require staff assistance to access the local network. GrandPad solves this challenge with built-in 4G LTE in every device. There are no additional costs or contracts required to enjoy this always-on internet access.
Reconnects seniors with family, friends, and caregivers — GrandPad empowers seniors of all ages and ability levels to participate in simple, secure video and multi-party Zoom calling. GrandPad also features voice-enabled texting and emailing, along with secure family photo and video sharing to ensure that seniors never miss a moment of their loved ones' lives.
To learn more about GrandPad or to shop the Silver Sunday sale on November 7, visit http://www.GrandPad.net or call toll-free 1-800-704-9412.
About GrandPad
Based in Minneapolis, GrandPad is a digital health company that develops engagement solutions to improve the health and well-being of older adults by reconnecting them to families, friends, and caregivers through technology that is safe, reliable, and easy to use. The GrandPad purpose-built tablet for people over the age of 75 — the first mobile device of its kind — addresses usability, security, and connectivity issues that are often roadblocks for integrating remote monitoring and telehealth into professional and familial caregiving settings. The company's secure cloud platform with built-in LTE and web applications allows care teams and family members to engage remotely with older adults without depending on WiFi connectivity. GrandPad enables a variety of interactions, including video calls, sharing essential care-related emails and messages, and conducting multi-party video care conferences between family members and a patient's continuum of caregivers. For professional caregivers, GrandPad offers connected device capabilities that support enhanced telehealth and remote monitoring services provided by a growing number of in-home healthcare organizations. To learn more, visit GrandPad.net or connect with us on LinkedIn, Facebook, Instagram, and Twitter.