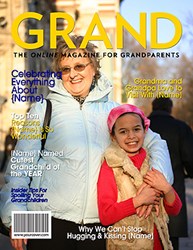 Wilton, CT (PRWEB) August 30, 2013
The origins of National Grandparents Day is said to have been started by one of two people. Both Michael Goldgar and Marian Lucille Herndon McQuade are given credit for Grandparents Day. However it was Mrs. McQuade who receive a phone call from President Jimmy Carter in 1978 when he signed the law creating the holiday.
Both Mr. Goldgar and Mrs. McQuade saw Grandparents Day as the opportunity to thank grandparents and all senior citizens for their contributions. Activities include card-giving, gift-giving, as well as school programs. People can also express their appreciation and love through phone calls, visits and special gifts.
A personalized Grand magazine cover from YourCover is a unique gift for celebrating the special place Grandparents hold in a family. This unique Grandparents Day gift can be created in just a few easy steps;
1) Choose the Grand magazine cover template from among the 80+ magazine cover templates available at YourCover
2) Upload a photo of the grandparent(s)
3) Personalize the headlines to be about the grandparent(s) starring on the front cover
4) Purchase either a photo file download for self printing (this image file is instantly delivered on the order confirmation page - great last minute Grandparents Day gift idea) OR let YourCover print and frame the magazine cover.
A unique Grandparents Day gift is memorable especially when the personalized magazine cover features the grandparent(s) and maybe even the grandchildren's photo. With each headline personalized to the family starring on the front cover, special memories will be captured for years to come.
YourCover has been offering personalized magazine cover gifts online at http://www.yourcover.com since 2000.