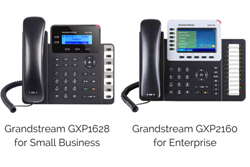 Buffalo, NY (PRWEB) September 18, 2015
VoIP Supply, North America's leading VoIP solutions provider, is announcing today the updated catalog of two top lines of Grandstream VoIP phones designed for the home office and small businesses, on up to large scale enterprise deployments.
Grandstream VoIP phones are known for their value, affordability, rich telephony features, and broad interoperability with leading VoIP service providers and IP devices.
Two leading phone series from Grandstream, the GXP1600 and GXP2100, have been updated and are available through VoIP Supply.
The GXP1600 series is ideal for small businesses or home offices that need simple phones that are easy to use and offer plug-and-play setup while providing a modern design, improved audio quality, connectivity with dual switched 10/100 Mbps ports, and enhanced features such as call recording capabilities.
Grandstream GXP1600 VoIP phones offer interoperability with leading telephony platforms such as Broadsoft, Metaswitch, Asterisk, and Elastix.
The latest Grandstream GXP1628 VoIP phone features:

132 x 48 pixel backlit LCD display
2 Dual-Color line keys for 2 SIP accounts and 2 Line Appearances
3 XML programmable soft keys
3 way conferencing
HD wideband audio hardware and software support for G.722
Full-duplex speakerphone with echo cancellation
Large phonebook that stores up to 500 contacts and 200 call history records
Dual 10/100/1000 PoE Ports allowing one network drop for both phone and PC
The GXP2100 series is ideal for enterprise applications that have high call volumes and require multiple lines. The large color LCD screens provide a user-friendly experience that provides simple, efficient navigation for busy workplaces.
Enhanced features of the GXP2100 series include HD audio, 5-way conferencing, built-in Bluetooth support, and phonebook transfer capabilities from paired smartphones.
Grandstream GXP2100 VoIP phones offer interoperability with leading telephony platforms such as Broadsoft, Metaswitch, Asterisk, and Elastix. GXP2100 phones are also UC-enabled so users can take advantage of a full Unified Communications experience that enhances productivity through IM, presence, video, and mobility.
The latest Grandstream GXP2160 VoIP phone features:
6 Line appearances
5 programmable soft keys
24 programmable BLF extension keys
Support for G.722 HD Voice
Large 4.3" (480 x 272) TFT color LCD display
Dual Gigabit RJ45 Ports
Built-in auto sensing IEEE 802.3 af Power over Ethernet
Universal power supply included
RJ9 headset port
Support for Electronic Hook Switch (EHS) with Plantronics Headsets
For more information about the small business Grandstream GXP1600 series and the enterprise grade Grandstream GXP2100 series, call VoIP Supply at 800-398-VoIP or, visit http://www.voipsupply.com/manufacturer/grandstream/phones.
About VoIP Supply
We solve problems and create solutions with VoIP. VoIP Supply is a world class place to work with big goals, a clear vision, defined purpose and a dedicated team of passionate business professionals. We love what we do and do it better than any of our competition.
Since 2002, VoIP Supply has been the leading supplier of VoIP equipment and complete VoIP solutions in North America. We are known in the industry as responsive and knowledgeable VoIP product experts.
With everything you need for VoIP, VoIP Supply has grown rapidly throughout the years. VoIP Supply is a three-time Inc. 500/5000 honoree, listed by Business First as one of WNY's Most Admired Companies, as well as one of Western New York's Best Places to Work for many consecutive years. VoIP Supply is also the first Certified B Corporation in Western New York.