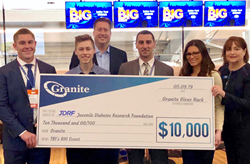 "We're pleased to join TBI in supporting JDRF's life-changing treatments and therapies for people living with Type 1 diabetes."
QUINCY, Mass. and CHICAGO (PRWEB) May 10, 2019
Granite Telecommunications, a $1.4 billion provider of communications services to multilocation businesses and government agencies, donated $10,000 to JDRF to fund diabetes research at the annual TBI BIG Event, Thursday, May 9, at Soldier Field in Chicago.
JDRF is the leading global organization funding Type 1 diabetes (T1D) research and a philanthropic sponsor of TBI's BIG Event. Granite, a BIG Event Gold Sponsor, will present a ceremonial check to JDRF representatives during the BIG Event.
"TBI gives a platform and voice to organizations like JDRF to promote their initiatives, drive awareness and secure the donations they need continue their life-changing research," said Mike Onystok, senior vice president of TBI and JDRF board member. "We are grateful to our friends at Granite for placing a priority on giving back and making a substantial contribution in support of JDRF's mission."
JDRF's vision is for a world without T1D and its mission is to accelerate life-changing breakthroughs to cure, prevent and treat T1D and its complications. To date JDRF has funded more than $2 billion in research.
"We're pleased to join TBI in supporting JDRF's life-changing treatments and therapies for people living with Type 1 diabetes," said Brad Dupee, head of channel development at Granite. "Their good work is helping millions every day, and we're happy to play a small part in their efforts to find a cure."
Every dollar that JDRF puts toward T1D research comes from donors like TBI and Granite. Join TBI and Granite, donate to JDRF today.
"Granite is proud to be a Gold Sponsor of TBI's BIG Event," said Dupee. "We're looking forward to meeting with TBI partners and talking about opportunities to bring game-changing technology solutions to their customers."
About TBI
TBI is the nation's leading third-party technology distributor. Since 1991, it has assisted Systems Integrators, VARs, MSPs, IT consultants and more in advising and sourcing the right technology solutions. TBI serves as a partner's advocate, ensuring the proper provisioning of cloud, Internet, data, mobility, voice and managed services from best-in-class service providers to achieve clients' desired business outcomes. Through training and marketing programs focused on the benefits of technology to the business, TBI empowers its partners to be the foremost authority to advise and source all of their clients' technology needs. With the largest back-office in the industry, TBI partners are fully supported by certified solutions engineers, pre- and post-sales operations, and project managers. For more information visit http://www.tbicom.com.
About Granite
Granite delivers one-stop communications solutions to multilocation businesses and government agencies throughout the United States and Canada. The $1.4 billion company serves more than two-thirds of the Fortune 100 companies in the United States and has 1.75 million voice and data lines under management. Granite launched in 2002 and grew quickly by helping businesses to simplify sourcing and management of local and long-distance phone services with one point of contact and one invoice for all their office locations nationwide. Today, Granite is the leader in aggregating Plain Old Telephone Services (POTS), and has extended its unique value proposition – "one company, one contact, one bill" – to include a range of advance business communications services, including Internet access, SD-WAN, wireless WAN, hosted PBX, SIP trunking, mobile voice and data, mobile device management, managed security, network integration and much more. Granite employs more than 2,100 people at its headquarters in Quincy, Mass., and nine regional offices nationwide. For more information, visit http://www.granitenet.com.