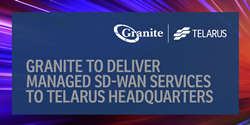 Granite has shown time and time again the ability to deliver not just in connectivity aggregation, but in additional services, such as SD-WAN.
QUINCY, Mass. (PRWEB) November 04, 2020
Granite Telecommunications, LLC, a $1.55 billion provider of communications services to multilocation businesses and government agencies, announced today that Telarus, the largest privately-held master agency and technology services distributor in the U.S., has selected Granite as its managed SD-WAN provider.
Under the three-year agreement, Granite will deliver managed VMware SD-WAN™ by VeloCloud® to Telarus' corporate headquarters in Sandy, Utah.
"Granite has shown time and time again the ability to deliver not just in connectivity aggregation, but in additional services, such as SD-WAN," said Josh Lupresto, Vice President of Sales Engineering. "They have a great practice around their Velocloud offering and we were excited to partner with them when our own need arose."
Granite offers a "Built-to-Order" SD-WAN solution, selecting from among six solutions designed to meet the performance, security and price requirements of each customer. Each customized SD-WAN solution is managed end to end – from design and deployment to monitoring and management from Granite's 24/7/365 U.S.-based network operations center (NOC).
"Granite has worked side by side with the Telarus for many years to deliver advanced communications services to businesses through the Telarus sales agent network," said Dave Hanron, Senior National Channel Manager at Granite. "As a top master agency, the Telarus team has vetted numerous SD-WAN providers, so we're especially pleased to have earned the confidence of their engineering and IT teams and to be chosen as their own SD-WAN supplier."
Granite and Telarus selected the VeloCloud® platform to provide premium-level service, including improved application and network performance, voice and video quality of service, delivery to cloud computing and application providers, subsecond failover and forward error correction.
The two companies expect the custom SD-WAN deployment to be a reference design for Telarus sales partners to showcase the real-world capabilities and advantages of the VeloCloud® SD-WAN solution.
"We're excited about the new business prospects the announcement of this deployment will create for the Granite-Telarus' partnership," said Hanron. "We look forward to duplicating the custom SD-WAN design for many of Telarus' channel partners and their customers."
About Telarus
Built for You, Telarus is the largest privately held technology services distributor (master agent) in the United States. Their dynamic agent-partner community sources data, voice, cloud, and managed services through our robust portfolio of 250 leading service providers. They are best known for their home-grown software pricing tools and mobile apps unique in the industry. To help partners grow their businesses even more, they have assembled the best support organization in the business, which includes SaaS, SD-WAN, Cloud, mobility, contact center, and ILEC specialty practices whose primary goal is to help partners identify and design the right technology solutions for their customers. To learn more about Telarus, please visit http://www.telarus.com, or follow them on Twitter @Telarus.
About Granite
Granite delivers one-stop communications solutions to multilocation businesses and government agencies throughout the United States and Canada. The $1.55 billion company serves more than two-thirds of the Fortune 100 companies in the United States and has 1.75 million voice and data lines under management. Granite launched in 2002 and grew quickly by helping businesses to simplify sourcing and management of local and long-distance phone services with one point of contact and one invoice for all their office locations nationwide. Today, Granite is the leader in aggregating Plain Old Telephone Services (POTS) and has extended its unique value proposition – "one company, one contact, one bill" – to include a range of advance business communications services, including Internet access, SD-WAN, wireless WAN, hosted PBX, SIP trunking, mobile voice and data, mobile device management, managed security, network integration and much more. Granite employs more than 2,200 people at its headquarters in Quincy, Mass., and nine regional offices nationwide. For more information, visit http://www.granitenet.com.