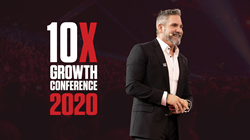 "One of my main objectives with this conference was to erase the line between business and entertainment." —Grant Cardone
LAS VEGAS (PRWEB) February 26, 2020
Grant Cardone and an array of A-list celebrity speakers just finished presenting to over 12,000 attendees at the Mandalay Bay for the 4th annual 10X Growth Conference. The massive three-day event for business owners and entrepreneurs brought in NBA legend Magic Johnson, comedian Kevin Hart, record executive Scooter Braun, actor John Travolta, UFC's Dana White, boxer Floyd Mayweather, music performers Snoop Dogg, Usher, and Rick Ross, plus an array of sales and marketing experts who shared strategies and tactics on how to build and scale a business.
The conference was held from February 21-23, 2020 with a private mastermind that followed for top entrepreneurs to bounce business ideas off of sales expert Grant Cardone, who created the 10X movement and the popular annual 10X Growth Conference. The entire event is beginning to blur the lines between entertainment and business.
"One of my main objectives with this conference was to erase the line between business and entertainment. Whether you consider yourself an artist and you're into music, painting, drawing, writing, theatre, dance, photography, design, modeling, or whether you consider yourself in the world of business with a title in sales, marketing, IT, management, accounting and finance, human resources…the 10X Growth Conference will show you how to improve what you do, but also how to merge art into your business and business into your art." —Grant Cardone
The 10X Growth Conference was created not just to be the top business conference in the world—but an entertaining time with multiple parties and performances. This year's event included a private party in Grant Cardone's private jet air hangar at McCarran airport for the Premier and Diamond level ticket holders plus multiple VIP networking events that were held throughout the entire weekend on the Strip.
Previously in 2019, the 10X Growth Conference was held in Miami at Marlins Park, where 34,000 entrepreneurs gathered in a baseball stadium to hear speakers such as Steve Harvey, John Maxwell, and Daymond John.
Tickets for 10X Growth Conference 2021 are already on sale at an early-bird discount at https://10xgrowthcon.com/gc5/
About Grant Cardone
CEO of Cardone Capital, international speaker, entrepreneur and author of The 10X Rule & creator of 21 best-selling business programs, Grant Cardone owns & operates seven privately held companies and a $1.5B portfolio of multifamily properties. Named the #1 marketer to watch by Forbes Magazine, Cardone is also the founder of The 10X Movement & The 10X Growth Conference, the world's largest business & entrepreneur conference.