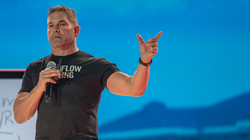 Our Boot Camp this past March was a SOLD-OUT EVENT. Because so many people couldn't be accommodated, we are expecting this event to sell out fast due to demand
MIAMI (PRWEB) May 07, 2019
Social media sensation and New York Times bestselling author, Grant Cardone, will host an exclusive three-day sales and marketing training workshop the weekend of July 12-14 in South Florida. This ultra-exclusive event is geared for business owners who want to increase sales and scale their business.
The interactive experience will include small group sessions, live question and answer opportunities, role play, and hands-on curriculum designed to show individuals how to build their business and income.
"Our Boot Camp this past March was a SOLD-OUT EVENT, and we are expecting this event in July to sell out fast due to demand. This three-day workshop will give you insights and knowledge to grow your business. I will be presenting material that grew my business massively and shows participants how to do it for themselves with actionable and instantly implementable methods and strategies every minute of the conference." — Grant Cardone
Grant Cardone has developed a multi-million-dollar online sales training platform called Cardone University which provides sales organizations, including Fortune 500 companies, with sales training, sales motivation, and sales solutions. This proprietary material will be made available to 10X Business Boot Camp attendees.
The event will be held at the JW Marriott Miami Turnberry Isles in Aventura, Florida. Seating is extremely limited but still available. All details and booking information can be found at https://grantcardonebootcamp.com/
About Grant Cardone: Grant Cardone is a New York Times bestselling author, international social media influencer, the number one sales trainer in the world, and an internationally renowned speaker on leadership, real estate, investing, entrepreneurship, social media, and finance. He owns five companies with annual revenues exceeding $100 million. He is a regular guest on Fox News, Fox Business, CNBC, and MSNBC. He also is a contributing writer for Forbes, Success Magazine, Business Insider, Entrepreneur.com and the Huffington Post.