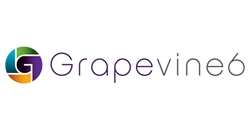 "Forward looking financial services firms are prepared to leverage the intersection of wealth transfer, millennial mindset and technology solutions. Grapevine6 helps large enterprise firms solve for all of that in one innovative platform," notes The Rudin Group Founder& CEO, April Rudin.
TORONTO (PRWEB) February 11, 2020
Grapevine6, a patented social and digital sales engagement platform, announces its partnership with April Rudin and her firm, The Rudin Group, a wealth marketing firm serving the global wealth ecosystem since 2008. The Rudin Group creates differentiated messaging and content strategy to unlock the power of social media and digital channels throughout a financial enterprise -- from CEOs to financial advisors.
In recognition of her industry impact, April Rudin, CEO and founder of The Rudin Group, was named Onalytica's #1 global online influencer in 2019. She has partnered with many enterprise marketing teams to empower financial advisors to post engaging content, which attracts new clients and gives them a competitive edge.
To formally launch this unbeatable partnership, April will be a special guest at the Grapevine6 reception event following SIFMA's Digital and Social Marketing Conference in San Francisco, February 20, 2020. Registration is open to qualified attendees: https://www.grapevine6.com/sifmapartnerevent
The Market Opportunity
Wealth management firms, RIAs, family offices, banks and insurance companies have long struggled to drive adoption of financial advisor social media programs. Advisors know they need to engage clients and prospects through social media channels but are often stretched too thin to curate enough relevant content and navigate compliance challenges. As a result, many settle for doing the minimum requirement that allows them to stay in compliance, which often results in repurposing the same PDFs.
Grapevine6 and The Rudin Group saw an opportunity to solve this industry-wide pain point through the application of Artificial Intelligence (AI). Those who have adopted this innovative technology are now maximizing business results with their social media programs.
How it Works
Grapevine6 applies AI to recommend highly relevant and compliant articles for advisors to share. Time-pressed financial advisors don't have to spend hours thinking of topics to talk about on social media. Compelling content finds them in the form of a simple to use mobile app. AI is also applied to overcome the second barrier – the fear advisors have of being non-compliant. Grapevine6's approach to compliance not only provides instant feedback on risk for any post before it goes to the network, but also allows advisors to use the social networks natively. By automating supervision, advisors can engage directly in social media with the confidence that their firms can take immediate action on compliance concerns if necessary.
Taken together, Grapevine6's delivery of relevant third-party content and the automated compliance guardrails empower financial advisors to use social media with confidence and speed adoption. The next step for the firm is to create a content strategy that helps the advisor engage with clients and prospects in social and digital channels. In order to be effective, the content strategy must have a digital-first orientation.
"My vision for the Grapevine6 partnership is to help wealth management enterprises convey their unique value propositions by unlocking the power of social media," said April. "Forward looking financial services firms are prepared to leverage the intersection of wealth transfer, millennial mindset and technology solutions. Grapevine6 helps large enterprise firms solve for all of that in one innovative platform. When I founded The Rudin Group during the financial crisis 12 years ago, this was exactly the kind of innovative thinking I wanted to bring to my clients."
Mike Orr, co-founder of Grapevine6 says, "We are thrilled to be working closely with April and her firm. Our clients recognize that content is the key to a successful social program and April and her team are experts in creating content that builds strong relationships between advisors and clients. We've benefited from her know-how in content marketing, social media, social selling and compliance for the past five years and we're excited to formally announce our partnership to serve clients in financial services on a global basis."
About The Rudin Group:
The Rudin Group designs brand and marketing strategies that drive business development. Armed with deep financial services/wealth sector knowledge, it brings innovative campaigns to financial services firms to strengthen brand awareness. With a knack for niche marketing, the firm delivers solutions that appeal to an emerging generation of wealthy investors and others craving connectivity and transparency. The Rudin Group Brand Ecosystem™ is a proprietary pipeline for producing compliant and compelling content, using proprietary technology that links marketing to business origination. With an extensive network of specialists and consultants, The Rudin Group is equipped to support both visionary and legacy brands from start-ups to global institutions anywhere in the world. For more information, visit TheRudinGroup.com or @TheRudinGroup.
About Grapevine6:
Grapevine6 is a patented social and digital sales engagement platform that accelerates sales and marketing efforts. Launched in 2013, Grapevine6 uses artificial intelligence to provide the content that moves sales opportunities through the pipeline in a more efficient and effective way. Grapevine6 solves the content challenges faced in deploying employee advocacy, content marketing and social selling, and works with existing sales and marketing investments to increase ROI. Headquartered in Toronto and led by an award-winning team of engineers, Grapevine6 is now powering the global social selling program at some of the largest technology and financial services companies in the world. For more information, visit Grapevine6.com