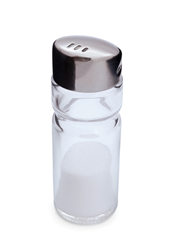 Have you ever went to the cupboard and wondered, "where the heck is the salt?"
Calgary, AB (PRWEB) March 18, 2014
Gratitude Consulting Group Inc. is announcing their unique marketing strategy "Where's the salt?" Their business consulting strategies are an eye catcher for a company's customer base. They have gathered a team that thinks out of the box, and beyond the ordinary marketing approach.
Gratitude Consulting, founded by Sherri Beauchamp, has created a successful international team that brings originality to every client's project. They use everyday situations to build a connection between a business and its customers using real people, sharing real stories. Sherri and the Gratitude Consulting team focus on a client's business mission, while working to learn and grow together. They strive to achieve the highest impact with sharp business consulting tactics.
The team at Gratitude Group is an international intellectual collaboration. Their management of a client is focused on understanding a company's customers' needs to facilitate a competitive market sales campaign.Their use of a combination approach can create a unique collection of ideas to sift through finding the perfect recipe for every client's marketing needs. It entails specifying an organization's objectives, then developing policies and plans to achieve those objectives. As a business consulting firm, they can then gather the resources to execute the plans, while the client can focus on their business. Inspiring companies is their focus; bringing a company's message and purpose to a wider range of customers is the final product.
They believe that they are, "only as successful as the footprint we leave on this earth. In today's world there are countless ways to leave a footprint and a part of our job is to assist you in leaving yours." The Gratitude Group work in the business consulting field because they want to bring noteworthy impact in your market and community. Their business philosophy is sometimes referred to as customer orientation. In the 1970's, businesses shifted to customer needs first and finding a product design to satisfy the goal second. This was a shift from simply producing a product, and then trying to sell it. Gratitude Group focuses on your business and its customers by finding out what they want, and then formulates a plan of action. The customer is the driving force behind their strategic business choices.
Sherri, and her team at Gratitude, know how to drop the exact pebble in the pond of marketing to create lasting ripples of market success for every client. Sara Jessie of Real Estate Services, expressed that the Gratitude group has "magnified our online marketing presence in ways we did not even know possible. Their expertise with online marketing, web design and social media have helped to make [their company] SJRES a top searched business." Gratitude Consulting puts a fresh set of eyes on business consulting with their new services in marketing strategy for companies worldwide.
About Gratitude Consulting Group:
Operating out of Calgary and Edmonton, Gratitude Consulting Group INC started after Sherri Beauchamp (Founder) had a vision of impacting and inspiring businesses and experts not only to leverage their expertise to change people's lives but to actually make an impact on the world. Their focus as a group is to bring all of the available moving parts to a business and leverage them in a way that's unique to their specific goals and helps spread the company's message to the people who need it the most.
Related News:

Related Search Phrases:
[Consulting Services] [Gratitude Consulting Group] [Google Trending] [Breaking News] [Business Consulting] [Small Business Consulting] [Reputation Marketing] [Reputation Management]
Related Hashtags:
#Consulting #GoogleTrending #BreakingNews #Marketing #Business #Reputation #Online #Brand #Gratitude #Happiness
###
Gratitude Consulting Inc. is located in Calgary, AB T3K 4Z2 Canada. Sherri Beauchamp and her team can be contacted at GratitudeConsulting.com email: Info(at)GratitudeConsulting(dot)com phone (587) 333-0170 or toll-free: +1 (877) 773-0745