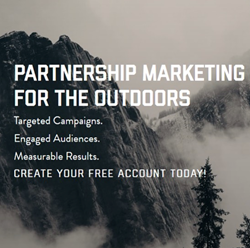 Our partnership with Impact rounds out a one-of-a-kind service package designed to help brands grow...
PARK CITY, Utah (PRWEB) January 27, 2020
GravityFed™ announced this week new service offerings that include robust sale attribution modeling and tracking for outdoor lifestyle brand and retailer clients, as well as a turnkey partner program management package where costs scale with growth.
Since 2018 the platform has offered brands the ability to track social reach and engagement through its influencer campaign marketplace. Now through a partnership and exclusive license with Impact, the global leader in partnership automation, brands and retailers can also apply custom attribution modeling to sale referrals by marketing partners.
The new services are designed to power partner programs populated by traditional affiliates, as well as social influencers, brand ambassadors, sponsored athletes, loyalty publishers, and more. Sale attribution may be tracked online or offline, and the program can be set-up for invite only access or open to thousands of partner prospects on the Impact platform.
"Our partnership with Impact rounds out a one-of-a-kind service package designed to help brands grow," says GravityFed™ CEO Jesse Hoffman. "Their code-based tracking is a game changer for social influencers, and it allows us the ability to develop, manage, and grow partner programs on a performance basis that meet the needs of any client," he adds.
One major benefit of the turnkey management package is Impact's tech capabilities that allow brands or retailers to configure code-based tracking, where specific offer codes can be assigned to specific marketing partners to share with their audiences. Think referrals from podcasters, YouTubers, person-to-person, etc. No links, no cookies. The code itself is the tracking mechanism.
About GravityFed™
GravityFed™ connects brands with outdoor lifestyle, travel, and adventure influencers. Leverage a founding team with more than 40 years of combined outdoor lifestyle marketing experience. Learn more by visiting GravityFed.com.