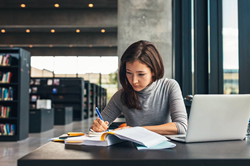 Magoosh is the GRE test prep program with the funny-sounding name - and a serious commitment to helping students score well on the exam
OVERLAND PARK, Kan. (PRWEB) December 28, 2020
TopConsumerReviews.com recently awarded their highest five-star rating to Magoosh, a trusted service offering GRE Test Prep materials.
Most graduate schools require applicants to submit results from the GRE, or Graduate Record Examinations, before being accepted to a program of study. This test, which lasts nearly four hours, evaluates students on their skills within mathematics, vocabulary and grammar, and analytical writing. Given that the test is both lengthy and expensive (typically over $200), it's a wise idea for students to prepare well in advance. Fortunately, there are several reputable, effective GRE test prep programs available today, allowing students to try their skills with practice questions and full tests. Some platforms even offer one-on-one tutoring as part of their test prep package. Whichever GRE test prep materials students use, they should be aware of any score guarantees or refund policies offered by the provider, to ensure that they meet the requirements prior to taking the exam.
"Magoosh is the GRE test prep program with the funny-sounding name - and a serious commitment to helping students score well on the exam," according to Brian Dolezal of TopConsumerReviews.com, LLC. "They offer two membership plans, determined only by the length of access the student prefers: one month or six months. Both options include more than 1,200 practice questions, helpful videos, up to three full practice tests, along with recommended study schedules and a score predictor. Magoosh gives everyone a free 7-day trial to test out their GRE test prep materials and make sure they're a good fit. The best news? You'll pay $149 for the one-month plan and just a little more for a full six months of access, priced at $179. Students say that Magoosh makes it easy to get ready for the GRE exam, and that they were very happy with their scores - especially if they used Magoosh to study after initially getting a lower score than they wanted. Because Magoosh is both affordable and effective, we're happy to give them our newest first-place ranking among providers of GRE test prep services in 2020."
To find out more about Magoosh and other online GRE Test Prep services, including reviews and comparison rankings, please visit the GRE Test Prep category of TopConsumerReviews.com at https://www.topconsumerreviews.com/best-gre-test-prep-courses/.
About Magoosh
Founded in May 2009, Magoosh is an online test prep company that offers affordable study programs and apps for the GRE, GMAT, ACT, SAT, LSAT, MCAT, TOEFL, IELTS, and Praxis. The company believes all students should have access to effective ways to boost their test scores, so their prep is a fraction of the cost of traditional classes and tutors. Magoosh students have answered more than 330 million questions, watched over 8 million hours of video, and have virtually flipped Magoosh study flashcards more than 1 billion times.
About TopConsumerReviews.com
TopConsumerReviews.com, LLC is a leading provider of reviews and rankings for thousands of consumer products and services. From GRE Test Prep to MCAT Test Prep and Resume Writer Services, TopConsumerReviews.com delivers in-depth product evaluations in order to make purchasing decisions easier.