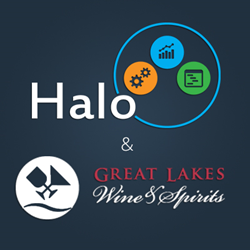 Halo was able to get a functioning data warehouse up and running and has canned dashboards well-suited for our industry
San Diego, CA (PRWEB) August 08, 2017
Today Halo announced that Great Lakes Wine & Spirits has licensed Halo Data Warehousing (Halo DW), an innovative data warehouse accelerator and automation platform that enables today's agile businesses and delivers reliability, data governance and data quality. In addition to Halo DW, the partnership includes implementation services and data visualization tools to automate graphing, charting, slicing, sorting and drill-down analysis.
Based in Highland Park, Mich., Great Lakes Wine & Spirits employs more than 1,100 people and serves all 83 of the state's counties. In June 2016, the company's management team identified the need for improved information architecture, including a modern data warehouse, as part of dual initiatives to improve operations and sales effectiveness. Primary selection criteria for the data warehouse were:
● Ability to enforce data governance standards and role-based access to customer information
● Low burden on IT - easy to maintain, modify and adapt to changes in the business
● Ability to leverage existing technology investments
● Ease of use
● Automated reports and alerts
Furthermore, according to Great Lakes' sales management team, field reps needed real-time access to account-level information during sales calls, including trending revenue dollars and case volume, incentive eligibility, stock-outs with replacement options, product penetration and returns/spoils. Halo was chosen for its ability to quickly stand up a modern, flexible data warehouse and deliver critical customer metrics to the field via device-independent Business Analytics tools.
"Because Great Lakes decided to separate the data warehouse portion of this project from the Business Intelligence piece, Halo's flexibility became very attractive to them. They could move with confidence, knowing that downstream they would have the option to use existing visualization tools or explore new ones," said Keith Peterson, President and CEO, Halo.
Great Lakes continues to operate with a best-of-breed approach, and is comfortable using a variety of tools in addition to Halo to support its reporting needs. As the information architecture upgrade project progresses and platform rationalization becomes a focus, Halo is well-positioned to help Great Lakes with everything from data gathering, maintenance and normalization to parameter passing from home grown apps, transactional reporting and predictive analytics.
"Halo was able to get a functioning data warehouse up and running and has canned dashboards well-suited for our industry. The Halo Platform plays nicely with our existing Microsoft stack and we can customize the solution if we want to," said Mike Arkison, CIO, Great Lakes Wine & Spirits.
About Halo
Halo is an analytics software and advisory services provider which offers customers an innovative blend of technology to manage demand forecasts, inventory and supplier relationships. Halo's Advanced Information Hub is a first-of-its kind solution to help companies leverage all their corporate data to generate new insight for competitive advantage. Halo is headquartered in San Diego, California, and can be reached via the web (halobev.com), Twitter (@Halo_BI) or email at info(at)halobi(dot)com