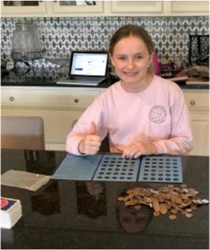 MARIETTA, Ga. (PRWEB) April 10, 2020
Parents and children across the nation are finding themselves at home and looking for things to fill their time and keep their minds active. These are troubling times but there is a silver lining. Americans have found an opportunity to slow down and reconnect with their families. Coin collecting can be an enjoyable and wholesome escape from television and electronic devices. That is why US coin dealers and collectors alike from coast to coast are pledging to give away coins and coin albums to parents for their kids.
The Great American Coin Hunt is encouraging coin dealers to give away rare coins on social media posts that will include vintage silver US coins. They will also be giving away Whitman blue book albums for parents to give to their kids to fill. Those pledging to give away coins or coin albums will be using the hashtag #GACH2020, #RoundTableLife and #GachIsBack in their posts on Facebook and Instagram. All treasure hunters have to do to be eligible to win is like and share the posts they find. The original poster will then choose a winner at random and announce it on their posts.
In 2019, the Great American Coin Hunt (http://www.GreatAmericanCoinHunt.com) began as an idea between a few coin dealers in a Facebook group called "Coin Dealers Helping Coin Dealers." This initiative lead to over one million vintage coins being put back into circulation. Within just a few days it became a viral, grassroots campaign that tens of thousands of numismatic enthusiasts participated in. Many coins from the 1800's were spent as regular money.
Under the circumstances that befell the world in early 2020, these coin enthusiasts decided to try something new.
Rob Oberth, President of RoundTable Trading, organizer of the Great American Coin Hunt and Current Governor of the American Numismatic Association says "The first inaugural Great American Coin Hunt was a huge success. Tens of thousands of people were very excited to see what we were going to do in 2020. We were handed lemons, so we decided to make lemonade. We hope that the GACH2020 campaign will prove to be the largest social media campaign ever in the numismatic community."
"For the 2020 Great American Coin Hunt we would like to see members of the public take advantage of this unique opportunity by going on Facebook or Instagram and searching for the hashtags mentioned in this article. Parents will be ecstatic to be given something constructive and educationally informative for their isolated children to do. Nearly every family has a change jar bulging with coins accumulated over the years." says Rob Oberth.
Jeff Garrett, who is Senior Editor of the Red Book and past ANA and PNG President is helping organize the event and says "The hobby of numismatic has been given a unique window of opportunity to capture the attention young people around the country. Last year, The Great American Coin Hunt was extremely successful, and gained national attention. The U.S. Mint did their part by creating the "W" Quarter program. Dealers around the country dropped hundreds of thousands of vintage coins into circulation. One marketing expert estimated the value of the media exposure to have exceeded $500,000. It was a much-needed boost for the hobby."
Jeff goes on to say "Like all of us, the lives of young people around the world have been turned upside down. All of them are experiencing some version of home school, and the daily routine of class and sports has been terminated. Parents around the globe are desperate for activities to fill the hours. I watched an interesting segment on Good Morning America today about the resurgence of jigsaw puzzles, and their surge of popularity during the Great Depression. As many of you may not know, coin collecting also experienced a boom during the Great Depression. The famous Fort Worth, Texas coin dealer, B. Max Mehl employed over 100 people in the 1930's. It was also the golden age for the production of classic commemorative coinage."
Coin enthusiasts and parents have a unique opportunity to change a child's life. Inspiring children across the nation to find a new hobby that will teach them history, economics, math and unplugged fun. And for some, can become a lifelong hobby or lucrative career.
The American Numismatic Association's "National Coin Week" is scheduled for April 19-25, 2020. Readers are encouraged to follow Great American Coin Hunt on Facebook and Instagram as organizers will be sharing information, clues and posts during National Coin Week.
The History of National Coin Week
The history of National Coin Week began in 1923, when American Numismatic Association Governor Julius Guttag suggested to the association's President, Moritz Wormser, that a week-long event should be established "to attract the general public to our hobby and consequently increase our membership, and aid in our science." That December, the first announcement of a "Coin Week" was made in The Numismatist and scheduled for the week of February 9-16, 1924.
RoundTable Trading
RoundTable Trading is the nation's leading coin dealer association. With careful and stringent admissions process and continued vetting of members, RoundTable dealers are among the most trusted members of the numismatic dealer community.