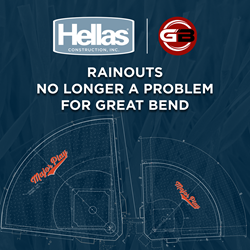 "We wanted the best product specifically designed for baseball/softball players and Hellas was the clear choice". Chris Umphres Assistant Superintendent Great Bend Recreeation Commission
GREAT BEND, Kan. (PRWEB) May 24, 2021
Sometimes the best choice is the obvious one. This is the case for the Great Bend Sports Complex. In recent years, inclement weather forced cancellations and postponements for the Great Bend Sports Complex. Meanwhile, opportunities to host conference tournaments demanded reliability of the playing surface. Once the choice was made to install synthetic turf at five infields deciding who would provide installation became clear. Hellas Construction was the chosen installer and Major Play® Matrix Helix® was the selected turf and Realfill™ Infill.
Chris Umphres, Assistant Superintendent of Great Bend Recreation Commission said, "Working with the team from Hellas so far has been great. The salesperson knew her stuff. She made sure that she knew what we, (the customer), wanted and not trying to sell us something that didn't meet our expectations. Great Bend researched many products and talked to many references from multiple sites to be able to produce a turf specification that would give us the edge over other sports complexes around the state. We wanted the best product specifically designed for baseball/softball players and Hellas was the clear choice. We are excited for the completed the project and look forward to one of the best playing surfaces in the area."
Hellas could begin the construction in August and be finished by February of 2022. Major Play turf delivers high utilization, functionality, and performance during all seasons. Major Play turf's configuration and weight of fibers are customized for each area of the field, guaranteeing true playing characteristics of natural grass and clay. The fibers in the Major Play turf are manufactured with dual colors, creating dimension and the realistic look of natural grass. In 2020, Wichita State University installed a Major Play turf field with Helix Technology at Eck Stadium which is 120 miles away from Great Bend.
Michelle Kuhns, Central Region Vice President said, "I have worked with Chris Umphres with the Great Bend Rec Commission for many years on this project. The goal has stayed consistent and I feel like this project will attract the high-level teams that want to play on the best surface in the country. Great Bend athletes will play on the same turf surface as Wichita State baseball, KU softball and so many other big-time baseball and softball programs play on! The City of Great Bend understands the value of building a facility that teams and players WANT to come and play on!"
Headquartered in Austin, TX, Hellas takes a turn-key approach to athletic facilities. Hellas owns and operates its own construction and installation equipment using its own crews. The firm also manufactures its own synthetic turf, track and court surfacing materials at three factories in the United States. These investments allow Hellas to meet the timing, budget, and quality demands of its clients without reliance upon third parties. With a full operational hub in Wichita, Hellas is well-positioned to serve Kansas and the Central Region as a whole.
Hellas Construction, Inc. headquartered in Austin, TX, is the largest vertically-integrated sports construction contractor in the United States, specializing in the general construction of sports facilities and sports surfaces. Hellas champions innovative artificial turf manufacturing, base construction, field, track and tennis planning, along with installation and maintenance. hellasconstruction.com
City of Great Bend, is a city in and the county seat of Barton County, Kansas, United States. It is named for its location at the point where the course of the Arkansas River bends east then southeast
Great Bend USD 428, works diligently to support our students and provide educational opportunities that fulfill our mission to educate and prepare all students to become responsible citizens and lifelong learners.
The Great Bend Recreation Commission, also known as Great Bend Rec, provides quality leisure, cultural, sports, fitness and educational programs to improve the quality of the community and the individual lives of our community members.