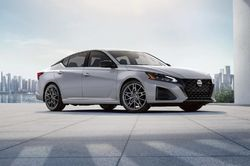 GLENDALE HEIGHTS, Ill. (PRWEB) February 17, 2023
Nissan's Thrill of the Drive Event is an excellent opportunity for Nissan fans to own a new vehicle this year. All Nissan models are available at attractive prices. Drivers can also find superb deals on select models. Nissan has always focused on offering its customers the best vehicle, deals, and offers. This event is a way of letting its customers know how much it cares about them.
Interested buyers can explore the website to learn more about the event in detail. They can visit the dealership and speak to the sales team if they reside close to the dealership. The sales staff at the dealership is experienced and will guide them appropriately. People far from the dealership can browse its website and learn about the new vehicles, deals and other exciting details related to the dealership.
At Glendale Nissan, customers can discover the latest Nissan models in its inventory. This includes the new Ariya, Armada, Pathfinder, Altima, Rogue, Kicks and Murano. Throughout the Thrill of the Drive Event, customers can check out new models, test drive and buy them at great deals. The offers vary from model to model. They can get in touch with the dealership's sales team to learn the latest information.
Buyers can access the glendalenissan.com website to learn about the sales events, new vehicle deals and the range of vehicle services available at the dealership. For detailed information on the Nissan Thrill of the Drive Event, they can meet the dealership team at Glendale Nissan, 484 E North Avenue, Glendale Heights, IL 60139 or contact them by phone at 630-469-6100.