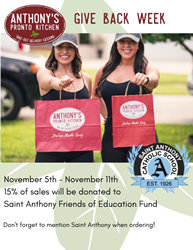 FORT LAUDERDALE, Fla. (PRWEB) October 29, 2019
The new Italian takeout and delivery only concept, Anthony's Pronto Kitchen, is taking their mission of hospitality to new levels by serving up Italian classics while giving back to the community this November.
Next week, Nov. 5-11th, Anthony's Pronto Kitchen is hosting a Give Back week and donating 15% of sales to help fund Saint Anthony, a local Catholic school bordering the edge of the Victoria Park neighborhood in Fort Lauderdale.
The money raised during Give Back week will benefit the Saint Anthony Friends for Education organization, which helps to fund teacher and staff salaries and the Student Tuition Assistance program. The tuition assistance fund is available to students in the Fort Lauderdale community, ensuring all children have access to education.
The idea behind their "Italian Made Easy" concept is to provide high-quality Italian food that is made fresh and can be enjoyed wherever customers like – without the fuss of restaurant reservations and dress code. As the first Italian eatery specializing in take-out and delivery only, local customers can now enjoy restaurant-quality Italian food in their home, office, or event, at an affordable price with Anthony's Pronto Kitchen. Catering is also available for groups of 10 or more.
With top quality ingredients and traditional Italian recipes, Anthony's Pronto Kitchen is dishing up everything from Wedding Soup to slow-cooked Meatball Parmigiana sandwiches, Rigatoni Vodka, and even Italian pastries for those with a sweet tooth. To place an order and take part in the local fundraiser benefitting Saint Anthony Catholic School Friends of Education, visit https://www.anthonyspronto.com/, call 954-289-3685, or download the Delivery Dudes app- available in the iPhone App Store or Android Play Store- from Tuesday Nov. 5th through Monday Nov. 11th.
More About Anthony's Pronto Kitchen
Anthony's Pronto Kitchen is located at 656 N Federal Hwy Fort Lauderdale, Florida 33304 in Victoria Park Shoppes. Hours of operation are Monday through Thursday, 11:00 a.m. until 9:00 p.m., Friday and Saturday 11:00 a.m. – 10:00 p.m., and Sunday 11:00 a.m. – 9:00 p.m.
The concept features restaurant quality Italian food exclusively for take-out and delivery. Offering lunch, dinner, and catering, the menu includes appetizers, salads, soup, sandwiches, entrees, family-style meals, desserts, party platters, and custom catering.
For media inquiries, please email Mahiza.Moore@exults.com.