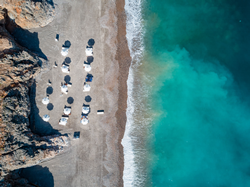 The GHOTW collection, thoughtfully curated for the rising bleisure traveller, is expanding its offer in prime locations as well as up and coming destinations.
LISBON, Portugal (PRWEB) August 06, 2020
On the new member hotels, Pedro Colaco, CEO, Great Hotels of the World says, "I am thrilled to welcome each of these hotels to the collection. In the current highly challenging business environment, hotels feel, more than ever, the need for a representation company that supports them, quickly adapting to the rapidly changing pace of business. We work closely with sales and marketing teams and support their return to profitability. We are more relevant than ever. Our flexible, unbundled services, high-tech operation and the high touch approach that a collection of 60 hotels permits, ensure we are uniquely positioned to serve the independent hotel segment.
At the same time, the groups and events segment has become increasingly complex; our growing portfolio of destinations and properties, together with the speed and ease with which we can communicate with our member hotels, makes us a very desirable partner."
Puro Warszawa Centrum, Warsaw Poland
What makes it a Great Hotel of the World?
Its unabashed passion for local culture and unbeatable location in the heart of old town Warsaw. With a strong focus on design, the hotel boasts a host of paintings, furniture and statement pieces created by local artists that bring to even the busiest of travelers an immediate feel for the sleek, vibrant, modern ethos of contemporary Warsaw. Guests are also perfectly poised to walk to all major sites and enjoy the best old town has to offer. The young quick-witted staff is always in the know about what you can't miss out on while in Warsaw.
Fun Fact:
The city center is home to the world's narrowest 2-storey house. Commissioned by Israeli writer and filmmaker Etgar Keret, the house is 1.22m wide and 9m high.
Yeatman Hotel Porto, Porto Portugal
What makes it a Great Hotel of the World?
The uniqueness and authenticity of the experience. Owned by one of the most prominent family names in Port Wine production, every aspect of this 5*, 70 room boutique lodging is imbued with the spirit, history and flavor of the 300 year old wine making tradition. The terraced construction – a reflection of the Douro valley itself, the decanter shaped infinity pool, the award winning wine cellar and memorabilia in guest rooms and common areas and even the Caudalie Vinotherapie Spa. Of course, good wine must go hand in hand with good food and guests will not be disappointed with the 2 Michelin starred Yeatman Gastronomic Restaurant led by Chef Ricardo Costa.
Fun fact:
Vila Nova de Gaia is the epicenter of Port Wine production. Barrels of wine from the upper Douro Valley would be transported by boat and taken to a Port wine lodge to mature in the cool damp riverside cellars – where the Yeatman Hotel Porto is now located.
Almanac Barcelona Hotel, Barcelona, Spain
What makes it a Great Hotel of the World?
Location, location, location! Just steps from the iconic Passeig de Gracia, this exceptional 5* property is at once one of the most sophisticated addresses in Barcelona and the perfect spot from where to set off to see some of Gaudi's most iconic properties. With state of the art meeting and business facilities for up to 100 attendees, as well as a sublime Spa and rooftop swimming pool, here, it's easy to put bleisure, alone or in the company of family and friends, into practice.
Fun fact:
Almanac Barcelona Hotel is a breezy 10 minute walk from the uber trendy Jaime Beriestain Concept Store and Café. Jaime Beriestain is the renowned creative force behind the stunningly beautiful and effortlessly elegant design of the Almanac Barcelona Hotel.
Grand Hotel Kronenhof, Pontresina, Switzerland
What makes it a Great Hotel of the World?
Its fervent commitment to seamlessly blending spades of historic splendor and charm with practical modern-day necessities for both business and leisure. Hailed as one of the world's top luxury and wellness resorts, the Grand Hotel Kronenhof is housed in a historically protected neo-baroque building dating back to 1848 and offers guests a state of the art wellness center and indoor pool that looks out onto the mesmerizing mountain side and picturesque Alpine village. A regal and serene setting to unwind in but also a stunning backdrop to bring to life corporate events of up to 400 guests and inspiring meetings and incentive trips.
Fun fact:
Right in Pontresina you can catch the Bernina Express – arguably the most scenic train in Switzerland - and ride along the UNESCO world heritage line through the Swiss Engadin Alps all the way to Poschiavo Italy.
Chedi Lustica Bay, Tivat Montenegro
What makes it a Great Hotel of the World?
It's the perfect all-in-one bleisure hotel in an exciting, pristine winter/summer destination. Just a 15 minute drive from Tivat International Airport, nestled into the stunningly azure Lustica coastline, the newly built property boasts 111 guestrooms, two restaurants, two bars, conference room and a business center, along with an outdoor heated pool, spa and fitness center and a private beach.
Fun Fact:
Montenegro's main geographical feature is its mountainous terrain which makes for the perfect winter slalom, ski off-piste and downhill destination during the chillier months of December through March.
Alcron Hotel Prague, Prague Czech Republic
What makes it a Great Hotel of the World?
The palpable rich historical background and marked architectural style prevalent throughout much of Prague, instantly immerses visitors in the deep cultural experience that visiting Prague provides. Exceptionally well located between new town and old town, guests can easily manage to take in the city's most sought after sites, museums, restaurants and shopping between meetings in one of the property's 10 exceptional event venues or in the nearby business district. Add to this a fully equipped gym, sauna and spa and you will be hard pressed to find a better place to add a few days of leisure to your business trip.
Fun Fact:
Built with a vision of becoming a world-class hotel to match Prague's booming international status in the 1930's, The Alcron Hotel Prague hosted many prominent national and international dignitaries and celebrities, including Ella Fitzgerald and Louis Armstrong in 1968 when they performed at the Lucerna Concert Hall at a time of eased restrictions in the political climate.
Arena Amsterdam Hotel, Amsterdam, Netherlands
What makes it a Great Hotel of the World?
The exquisite ambience and hip style explicitly designed with those for whom there is no set line between work and play in mind. A pre-war Christian orphanage magnificently transformed into a genuinely styled ultra-modern Dutch minimalist property, every nook and cranny is useful, pleasing to the eye and supremely comfortable. With a number of common areas, meeting rooms and event venues, including the must-try PARK café and restaurant, the Arena Amsterdam seeks to maintain the social role it has always had in the community by making sure that this is where guests and locals meet, connect, sing and dance together.
Fun Fact:
Amsterdam East is home to the Youseum – not quite a museum – more of an immersive kaleidoscopic experience with 15 rooms that take you through 25 different highly instagramable experiences, featuring you and what it means to see and be seen!
About Great Hotels of the World (GHOTW)
GHOTW represents a portfolio of 60 largely independent upscale hotels and resorts worldwide that have been thoughtfully curated to cater to the rising bleisure traveller. Beyond exceptional accommodation, a sweeping range of meetings and events venues, and world-class leisure facilities in exciting destinations, the Great Hotels of the World brand is a seal of authenticity and character in hospitality.
Just as each hotel is unique, so are the tailored sales and marketing products and services that GHOTW provides to each one. This highly personal approach ensures that each hotel retains its independent look and feel while accessing state-of-the-art technology, distribution channels, and new source markets.
GHOTW has operations in London, New York, Frankfurt, Milan, Madrid and Lisbon. For more information, please visit http://www.ghotw.com