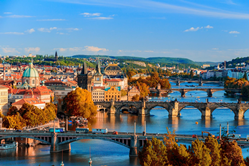 LISBON, Portugal (PRWEB) January 16, 2020
Great Hotels of the World, the renowned international hotel representation group, kicks off the new decade announcing the addition of 6 new member hotels to its portfolio. It also introduces the Czech Republic, Georgia, Lithuania, Turkey and Thailand to its list of increasingly sought-after destinations.
"Following demand made clear by our 3,000 strong MICE and Corporate buyers database, our strategy has been to offer new upcoming, attractive and sustainable destinations such as Lithuania in the Baltics, sometimes referred to as the new Scandinavia, or Georgia, which has 12 different climate zones making it one of the world's most ecologically diverse nations in the world. We are thrilled to start the year by welcoming all 6 new member hotels to our collection and we're excited by our growth perspectives for the year ahead", comments CEO, Pedro Colaco.
Hotel Don Giovanni, Prague Czech Republic
What makes it a Great Hotel of the World:
The perfect all-in-one bleisure hotel for business travelers or conference delegates: apart from its astounding 20-room conference facilities for up to 1,000 delegates, this upscale hotel boasts spacious Family Rooms for those all-important extra days with family or friends, and offers a range of restaurants and bars, as well as coveted spa and wellness center.
Fun Fact:
Mozart's celebrated opera Don Giovanni was first performed in Prague in 1787 and, as with other Mozart operas, was rapturously received. The opera is remembered throughout the hotel in its lavish decoration and ambience – the white concert piano in the lobby is the most instagrammed feature of the hotel.
Hotel Don Giovanni features 412 regal guest rooms with stunning city views. It is located just off the city centre, in a popular residential area, yet is close to all public transports, making the city center of Prague, easily accessible for business and leisure visits alike.
Vilnius Grand Resort, Vilnius, Lithuania
What makes it a Great Hotel of the World:
The luxury of space: 400 acres of countryside sanctuary. Conferences and events in a setting like no other.
Fun fact:
Every year the river Vilnia is dyed bright emerald green for St. Patrick's Day and there are festivities and processions throughout the city.
Bleisure at its best, among the lakes and the green. Work, rest, adventure and the great outdoors – and all in one place. For bleisure stays, the spacious Family Rooms are the answer.
One of the Baltic states' most impressive conference facilities. 185 rooms offering well-appointed comfort and modern amenities. Spectacular lush green grounds complete with 2 picturesque lakes and an 18-hole championship golf course.
Guests are just a twenty-minute drive from the fabulous city center of Lithuania's capital city Vilnius, and its inviting restaurants, local boutique shopping and many historical monuments.
Museum Hotel Oberliani, Tbilisi, Georgia
What makes it a Great Hotel of the World:
Its personal story: The Museum hotel is on Orbeliani Street, formerly the palatial home of one of Georgia's most illustrious families – the Orbelianis, who exercised sovereignty over 100 other noble families in the country.
Today, a boutique hotel which is a National Monument. Contemporary design blends effortlessly with central European cultural heritage – luxurious velvet and swish satin meets marble bathrooms with stand-alone bathtubs.
Fun fact:
Tbilisi's main source gushes warm, sulfurous waters, giving the city its name: the word tbili in Georgian means warm.
From its local historical roots to its charmingly singular aesthetic, the 46-room boutique hotel feels unlike any other contemporary hotel. With a story to tell behind every door, the Museum Hotel is magnificently located, minutes from the Tbilisi Opera and Ballet Theater, across the street from the Dry Bridge Flea Market, but away from the bustling tourist area, surrounded by historic homes that reveal the rich history of Georgia's capital city, an up and coming destination.
Istanbul Gonen Hotel, Istanbul, Turkey
What makes it a Great Hotel of the World:
A consummate all-in-one offering: large bedrooms, flexible and ample meeting facilities, multiple restaurants and bars to choose from and extensive wellness, fitness and leisure options.
Fun fact:
The hotel's Turkish baths, in black and white striped marble can comfortably take up to 15 people in one seating and the spa has separate facilities for women, with sauna, steam room, hammam and beauty treatments.
With 12 fully equipped state of the art meeting facilities, the Istanbul Gonen Hotel is one of the city's premier meeting venues which includes an elegantly designed ballroom for up to 500 guests and a 1300 sqm foyer perfect for exhibiting. The hotel's 305 guestrooms offer all contemporary comforts and amenities. At the Istanbul Gonen Hotel, guests can opt between the larger buffet-style Sedef restaurant or the unique Ottoman style cuisine of the GC Club Lounge. Guests are always welcome to play a game of pool or watch their favorite sports events at the Lobby Bar and take some time out at the luxurious onsite spa and fitness center.
Banyan Tree Bangkok, Bangkok Thailand
What makes it a Great Hotel of the World:
It's on top of the world. Think 61 floors, with stunning views over Bangkok. The rooftop Vertigo is one of the city's iconic roof bars. Meetings, conferences, leisure and business travel – there's something for everyone.
Fun fact:
The world-renowned Banyan Tree Spa in this hotel takes up fully 3 floors of the building – it's the largest hotel spa in the entire city.
This 5-star hotel in the heart of Bangkok's busy streets, offers guests a surprisingly soothing resort feel. Housed in one of the highest buildings in the city, it boasts 327 bedrooms and stunning views. A range of restaurants and bars delight foodies from around the world. The award-winning spa and a state-of-the-art health club refresh and revive. Work is made easier by the hotel's flawless service and attention to detail, in 12 venue spaces, seating up to 400 delegates. Here, any event leaves a lasting impression.
Luttrellstown Castle, Dublin, Ireland
What makes it a Great Hotel of the World:
A truly independent and unique, privately owned estate and hotel, lovingly and lavishly restored, perfect for luxurious and exclusive events.
Fun fact:
Luttrellstown Castle Resort was chosen by UK worldwide celebrity couple David Beckham and "Posh Spice" Victoria for their wedding.
Situated in the heart of a 560-acre estate, Luttrellstown Castle Resort is a privately-owned estate with an historic castle, that can be hired for exclusive use. With twelve impeccably sumptuous bedrooms (twenty from April 2020), an awe-inspiring library, magnificent ballrooms and manicured lawns, Luttrellstown Castle is a dream come true. The estate also features an 18-hole championship golf course, walled gardens, walking trails, fishing, falconry and much more, though guests are also welcome and often look forward to spending tranquil hours walking the woods and parkland, exploring and enjoying the many unique attractions of this historic estate.
About Great Hotels of the World (GHOTW)
GHOTW is a well-established hotel representation company which provides global hotel sales and marketing services, as well as innovative technology solutions for an exclusive portfolio of some 50 primarily independent hotels and resorts worldwide. Just as each hotel is unique, so are the tailored sales and marketing products and services that GHOTW provides to each one. This highly personal approach ensures that each hotel retains its personality and authenticity while accessing state-of-the-art technology, distribution channels, and new source markets. GHOTW has operations in London, Madrid and Lisbon.
For more information, please visit http://www.ghotw.com