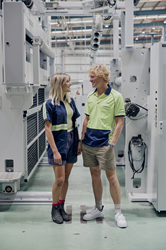 "We've made it possible for Australians to ditch plastic without changing their habits and plan to do the same in the U.S."
MELBOURNE, Australia (PRWEB) July 27, 2022
Jordy and Julia Kay, Co-founders of Great Wrap, are disruptors in an industry that has not seen change since the 1940s. Great Wrap, a materials science company that manufactures the only certified home compostable stretch wrap from potato waste, is expanding to the U.S. in August, to end the American reliance on petroleum-based plastics.
Great Wrap is launching in the U.S. with a compostable cling wrap and a refillable dispenser for American households to help minimize plastic and promote composting at home. Jordy and Julia, a husband and wife duo and a former architect and winemaker, have assembled a team of scientists, biotechnologists and engineers that have developed technology to manufacture the stretch wrap.
The wrap is formulated by diverting potato waste from landfills and converting it into the main raw ingredient. Julia Kay states, "If we added just 0.4% to the world's soils by composting food waste, then we could immediately counteract climate change. Composting has a profound impact on your garden and saving the planet.
"We've made it possible for Australians to ditch plastic without changing their habits and plan to do the same in the U.S. We're proudly helping people take a step towards a more sustainable future, by making our compostable stretch wrap readily available at an affordable rate."
Jordy added that the average person throws away over 38 pounds of cling wrap per year and 5.71 million tons annually, with Americans buying enough plastic film each year to shrink-wrap Texas. The founders', in their late 20's and early 30's currently have two factories in Australia and are working to set up one in the US in 2023. They're already on track to divert 50,000 tons of potato waste from landfill this year, and plan to grow that to 300,000 tons once they open a plant in the US.
The stretch wrap breaks down in under 180 days into carbon and water, leaving behind zero toxins, unlike biodegradable products that are petroleum-based and decompose into harmful microplastics.
Great Wrap acquired $24 million in Series A funding for its expansion from key impact and sustainability investors, including Groundswell Ventures, Springbank Collective, Barrel Ventures, ALIVE VC and the investor group Trail Mix Ventures (TMV). This has allowed Great Wrap to set up a biorefinery at its Melbourne factory with the capacity to manufacture 30,000 tons of compostable stretch wrap by the end of 2023, making them Australia's largest stretch wrap manufacturer. TMV praised the brand for its innovative, mission-driven approach.
"Great Wrap is a natural fit in our Sustainable Solutions thesis—we believe there is a critical need to build everyday products for consumers and businesses that reduce environmental impact in a real way," said Soraya Darabi from TMV. "Jordy, Julia and the team are creating breakthrough new materials and driving both business and consumer adoption with a brand that resonates and an accessible price point."
Emma Silverman from TMV continued, "We'd like to see Great Wrap in every home, restaurant kitchen, warehouse and distribution center across the globe. Great Wrap is looking to eliminate petroleum-based plastic manufacturing over the next 10 years. This is an audacious vision, and one where they've taken meaningful steps to make a reality. The team has created an innovative product and built an end-to-end supply chain to bring it to market in a disruptive, sustainable way. Soon, they will be launching more compelling products that speak to both the consumer and B2B markets—an opportunity we see driving enormous value and impact."
Great Wrap's certified home compostable cling wrap (Nudie Rolls) and refillable dispenser (Great Mate) will be available online in August 2022 at https://www.greatwrap.co/
###
About Great Wrap
We saw a materials revolution happening around us. Everything was changing rapidly; energy, transport and agriculture, yet plastic stayed the same. We knew the technology existed to put an end to plastic waste but there weren't any products available on the market for us to use. That's when Great Wrap was born. We invented the products we knew the world was missing so we can dump plastic once and for all. We are driven by impact, fuelled by demand and have a 10-year vision for a world where plastic doesn't exist.
Since the launch, Great Wrap, a B Corp Certified business, has gone through significant growth and has now established a manufacturing facility on the Mornington Peninsula and in Melbourne in Victoria, Australia. Great Wrap manufactures compostable cling wrap for homes and businesses, including home cling wrap, catering wrap, pallet wrap and pallet caps. The business product line (pallet wrap and catering wrap) will hit the United States in the coming years. Follow them on Instagram @great_wrap.