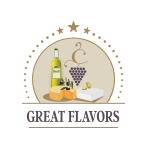 NEW YORK and CHICAGO (PRWEB) June 03, 2019
On the evening of Tuesday, May 7th and Wednesday, May 8th, the Great Flavors program invited media and influencers to a walk-around tasting at Fig & Olive in New York City and Chicago. Chef Mathew Mirza and Chef Victor Calderon from Fig & Olive developed an enticing feta, olive oil and olive-filled menu to showcase the various ways these Greek delicacies can be integrated into a variety of culinary options.
The feta cheese PDO, Naxos gruyere cheese PDO, Thasos throumpa olive PDO, Fthiotida pistachio PDO, Zante Black Currant PDO, Zante Extra Virgin Olive Oil PGI, and Thasos Extra Virgin Olive Oil PGI, are authentic and unique products of Greece that are harvested by local producers. The authenticity and uniqueness of the ingredients, and their close relationship to their place of origin, are acknowledged by the European Union, and protected worldwide, since they carry the badge of Protected Designation Origin (PDO) or Protected Geographical Indication (PGI).
Greece has 104 recognized products within the European quality system for food, comprising the 4th Member State in terms of the number of protected indications, out of 1,338 overall. Financed with aid from the European Union and Greece, this Great Flavors campaign has been designed to showcase traditional Greek ingredients to an international audience.
Stay informed about Great Flavors and upcoming events here!
About Great Flavors
If you have been to Greece, one experience seems to be unforgettable: Greek cuisine and its recipes: so difficult in pronunciation but too unique in taste to be forgotten. Become familiar with our authentically Great Flavors at http://www.greatflavors.eu/index.php/en