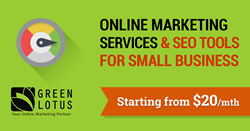 The Green Lotus Small Business Hub provides SMBs and entrepreneurs with flexible, affordable and quality service.
Toronto, Ontario (PRWEB) September 22, 2015
In response to the growing needs of small and medium business, Toronto Online Marketing Agency, Green Lotus has now developed solutions for small businesses and entrepreneurs, fulfilling their preference for flexible, affordable and quality service.
Launched in mid-2015 the Green Lotus Small Business Hub provides an array of affordable online marketing services for Entrepreneurs and SMBs on a pay-as-you-go model, including:

SEO Services
SEO Tools
Email Marketing Services
Responsive Web Design Services
Social Media, Blogs and Press Release Services
Advanced SEO Courses
With 82% of Canadian internet consumers using search engines to find local products and services, and making purchasing decisions online, simply having a website is not enough.
Green Lotus SEO Services are the most popular package offered. Starting at $450/month clients recieve a full range of SEO, including:

Full Evaluation of search visibility, keyword ranking and competitive analysis, and more
Strategic Planning and online consultation to review evaluation results and recommendations
SEO Implementation with web content and full tracking installed
Local Optimization and submission to local directories
Technical Optimization of site structure and meta tagging
Detailed SEO Reports are provided and reviewed to track results and monitor SEO strategy effectiveness
Green Lotus prides itself in providing high-quality services and detailed reports to clients. Demonstrating the effectiveness of each service provided is how Green Lotus has managed to develop a loyal client base that continues to grow and celebrate success.
More About Green Lotus Online Marketing Agency:
Bassem Ghali is the driving force behind Green Lotus and has a knack for creating innovative online marketing strategies for small, medium and large businesses. Bassem is a Search Engine Marketing Strategist and Speaker with more than 8 years of experience managing online marketing strategies for some of Canadian's largest corporations including Canadian Tire, Direct Energy, and Toronto Star - New in Homes.
Demonstrated success in online marketing has led to speaking engagements at various events including Search Engine Strategies (SES) Toronto, University of Toronto, Ryerson University, Humber College, American Marketing Association, SOHO Business Expo, Online Revealed Canada Conference, Newmarket Chamber of Commerce and more.