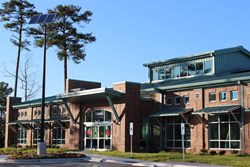 As an independent retailer, Stone's serves as an award-winning blueprint for other retailers interested in green building, said Steven Peedin.
Raleigh, NC (PRWEB) April 30, 2014
The City of Raleigh recognized individuals and organizations committed to preserving and improving the environment at its 7th annual Environmental Awards celebration at the North Carolina Museum of Natural Sciences. Stone's Education Superstore received the Non-Residential Green Design Award for its sustainable retail building with features that extend visitors' learning experience beyond the shelves. Rufty-Peedin Design Builders also was recognized for its role in cooperation with Maurer Architecture in the design-build construction of Stone's award-winning building.
Stone's new building features 17,000 square feet of educational toys, games, books and teacher supplies – and a unique way for children and their parents to learn about renewable energy and sustainability. Visitors to Stone's are greeted by a giant rooftop solar array, solar-powered LED parking lot lighting, and an electric car charging station. Upon entering the building, kids can delight in the store's wares, yet also learn about its impact on the environment by watching video monitors displaying Stone's real-time power generation and consumption.
"This building showcases Stone's remarkable commitment to renewable energy and sustainability," said Steven Peedin, president of Rufty-Peedin Design Builders. "As an independent retailer, Stone's serves as an award-winning blueprint for other retailers interested in green building."
Sustainability goals were defined at the outset for this unique brick and glass building, designed by Maurer with a nod to historic train depots. Owner David Madison's desire to create a space for learning about sustainability was central to the design. Other key "green" features, include:

Giant rooftop solar array installed by local YesSolar!
All LED lighting throughout, including solar-powered parking lot lighting.
Electric car-charging station.
Giant 18-foot fan, reducing energy consumption 25%.
Nitrogen detention system to capture runoff.
Sun directional shading to deflect heat in summer, and allow sun penetration in winter.
Locally sourced building materials, brick, concrete, and green advanced insulation.
Native floral, trees and plants.
"We're thrilled that together Stone's, Rufty-Peedin Design Builders, and Maurer Architecture have been recognized as stewards of the environment by the City of Raleigh with a 2014 Environmental Award," said David Madison.
Tom Earnhardt, host of the UNC-TV series Exploring North Carolina, gave the Environmental Awards keynote speech. He shared the importance of maintaining the state's rich plant and animal biodiversity and challenged attendees to plant native species wherever possible. City of Raleigh Mayor Nancy McFarlane welcomed guests and presented hand-crafted awards created by Bill Wallace, made from repurposed wood or local fallen trees. More than 200 people attended the event.
The Environmental Awards celebration is made possible through donations from sponsors who share the vision of environmental stewardship for the Raleigh community. For more information, visit the City of Raleigh's website.
About Stone's Education Superstore
Stone's is a local, independent retailer of educational toys, games, books and teacher supplies, with a new 17,000 square foot location showcasing the latest in renewable energy and sustainability. As passionate advocates for the shop local movement, Stone's staff takes great pride in helping families find award-winning learning toys and games as recognized by the American Specialty Toy Retailing Association (ASTRA).
About Rufty-Peedin Design Builders
Based in Raleigh, N.C., Rufty-Peedin Design Builders helps North Carolina organizations successfully plan, engineer, design and build their commercial construction projects with efficiency and quality. The company continues to grow as a leading commercial contractor by offering personalized service and expert design-build methods. Founded by respected area builders Jon Rufty and Steven Peedin, the firm offers more than 55 years of combined industry experience in providing high value, sustainable construction. Rufty-Peedin is a design-build general contractor of medical, office, commercial, industrial flex, service, retail and church facilities throughout the Research Triangle region of North Carolina.