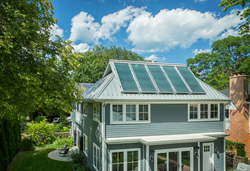 "The only direction is up and when you look up, you see the sun. The Sun is our Now and our Future." -Todd Verk
Los Angeles, CA (PRWEB) May 12, 2016
Green Solar Technologies hires solar power expert, Todd Verk, to be Vice President of Sales.
Todd started his career as a cabinet manufacturer in the rolling mountains of Pittsburgh, Pennsylvania. Reared in the teachings of gurus such as Dale Carnegie, Zig Ziegler, Grant Cardone, Todd transferred to sales when he realized his skills were in greater demand in that field than they were in cupboards. In 1993, he became Regional Vice President for Green Tree Financial's Home Improvement Division. Green Tree Financial Corporation is one of the largest multi-line finance companies in the United States. Todd helped brick and mortar contractors offer indirect financing for their residential homeowner base. He ended up controlling the highest revenue division in the country and left when Conseco bought the Green Tree Financial division.
In Los Angeles, California, Todd quickly became involved with the start up solar dream when he joined Fire Energy USA as its home improvement sales manager. Fire Energy was one of the fastest growing and successful national solar products distributors in the USA at the time. It had created a national presence that stretched from its headquarters in Southern California, to Northern California, Hawaii and Boston. It was there that Todd launched his star as sales expert in the field.
In early 2013 Todd joined a nationally recognized solar company as National Sales Manager. Solar Solutions is a 30-year leading installer of residential and commercial solar power systems in California, and Todd recruited, hired, trained and motivated sales people for its company. Todd, in effect, became an Engineering, Procurement, and Construction Contractor where he drove key activities from everyday work such as design, procurement, construction, to vendor negotiating, marketing, and expanding the consumer base.
In March 2016, Todd linked up with Green Solar Technologies to head its sales division.
Says Todd:
My position as VP of Sales and its job description mirrors all of my years in business management, training, financing, design and sales… I came to GST because of their excellent foundation of organization, their current offerings to end users, their ability to provide complete turnkey commercial as well as residential energy solutions, the family atmosphere within its pool of team members, its existing management team and their ability to all work cohesively.
Todd is convinced that he can offer GST an eclectic sales experience and set of skills that includes his "ability to not only see past the trees but look to the future."
The future, he says, is solar: "The only direction is up and when you look up, you see the sun. The Sun is our Now and our Future."