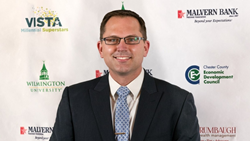 I certainly would not be where I am today without the help of countless colleagues throughout my career and I try whenever possible to pay things forward by helping others advance their careers
WEST CHESTER, Pa. (PRWEB) January 27, 2021
Green Lawn Fertilizing / Green Pest Solutions Senior Vice President of Operations Josh Willey was named to Chester County's 40 Superstars Under 40 List by Vista.Today. The 2021 List of Vista Millennial Superstars celebrates Chester County's most dynamic business and professional leaders under the age of 40, who are shaping the county's future.
Josh's role as Sr. Vice President of Operations at Green Lawn Fertilizing / Green Pest Solutions has him at the pulse of everything at the leading local PA, NJ and DE lawn care and pest control provider; from sales to customer service and operations.
"Josh is just an overall great person both personally and professionally! Josh is an incredible leader! He has made an impact at Green Lawn Fertilizing and Green Pest Solutions since his first day and has been instrumental in helping build our leadership team and drive continuous improvement in all aspects of our business," said Matt Jesson (President/Owner). Since 2017 the company's revenue has more than doubled from $10 million to $23 million.
Josh has put an emphasis on training, development and education. He created a leadership development program at Green Lawn and Green Pest to assist front line employee's development into management. In October 2019, Josh completed a three month executive education program at Stanford University.
"It's an honor to be listed among this group of 40 young professionals who are having a huge impact on Chester County businesses. I certainly would not be where I am today without the help of countless colleagues throughout my career and I try whenever possible to pay things forward by helping others advance their careers," said Josh Willey.
Vista Today received over 200 nominations of millennials from all across Chester County who are breaking down walls, shattering expectations and doing remarkable work in both their profession and their community. The wide range of industries represented by the 2021 Class of VISTA Millennial Superstars is proof that Chester County's businesses, nonprofits, universities, and communities will be in good hands for years to come.
The 40 Vista Today honorees will be recognized at an awards celebration on February 4th, 2021 at Victory Brewing Company in Parkesburg, PA. The event will be a hybrid format that enables the VISTA Millennial Superstars to attend in person or watch the presentation from work.
# # #
Green Pest Solutions and Green Lawn Fertilizing is an independent lawn and pest control company that was founded in 2004. Under the leadership of Matt Jesson, President and Owner of Green Lawn Fertilizing / Green Pest Solutions, the company has grown to over 200 team members and over 100 service vehicles in its fleet. They have a mission to become the leader in the lawn and pest industry by providing superior customer service. Over the last several years, highly reputable publications have taken notice of the company succeeding in that mission. In 2020 The Philadelphia Business Journal named Green Lawn Fertilizing / Green Pest Solutions one of their Best Places to Work as well as one of their Soaring 76 fastest growing private companies. For eight of the last nine years the company received the Inc. 5000 award for being recognized as one of the 5,000 fastest growing private companies in the America. In 2018, Green Pest Solutions was named "Best of Philly Earth-Friendly Exterminator" by Philadelphia Magazine and in 2017 they were named "Best Pest Control" by Philly.com. In 2017, the company received the "Customer Service Excellence" Award by the Greater Philadelphia Chamber of Commerce. The company has been recognized locally for its fast paced growth being named to the EFGP's Philadelphia 100 three times and the Philadelphia Business Journal's Soaring 76 in 2020.