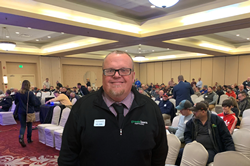 To be named the Vice President of LCAP is truly an honor. I am excited to get things underway and help improve the state of lawn care throughout Pennsylvania.
WEST CHESTER, Pa. (PRWEB) March 02, 2020
Tom Knopsnyder, VP of Fleet and Assets at Green Lawn Fertilizing, was named Vice President of The Lawn Care Association of Pennsylvania (LCAP) at their annual conference on February 15th.
Tom was attending LCAPs 1st quarter meeting last week, when the topic of a new Vice President came up. Unbeknownst to Tom he had already been nominated! His nomination was announced to the entire room and before he knew it, the entire LCAP delegation had voted him in as their new VP.
Tom was incredibly surprised and thankful for this opportunity. With over 30 years of experience in the industry Tom will put his vast knowledge and expertise in the industry to good use and to help improve lawn care companies across the entire state of Pennsylvania.
"To be named the Vice President of LCAP is truly an honor. I am excited to get things underway and help improve the state of lawn care throughout Pennsylvania. Being in this industry for over 30 years has taught me many lessons and I can't wait to get started as Vice President of LCAP." said Tom Knopsnyder.
"I am so proud of Tom! He been an incredible executive leader at Green Lawn Fertilizing for over 13 years and he will be a true asset to our state lawn care association", says Matt Jesson (President/Owner).
The Lawn Care Association of Pennsylvania is the voice of the lawn care industry in the Commonwealth of Pennsylvania. Their primary directive is to make certain that legislators are aware of the impact that pending legislation will have on businesses. LCAP wants to protect the interests of its members so that businesses across the state are not negatively impacted by legislation. With members spanning across the entire state, they are one of the biggest lawn care groups in Pennsylvania.
Green Lawn Fertilizing has been involved in LCAP for over twelve years. LCAP provides a space for lawn care companies from across the state to network and share ideas on how to help improve the way lawn care is done throughout the state. With Tom Knopsnyder firmly in place in the organization's leadership, LCAP will be a strong voice for the lawn care industry in Pennsylvania for years to come.
# # #
Green Pest Solutions and Green Lawn Fertilizing is an independent lawn and pest control company that was founded in 2004. Under the leadership of Matt Jesson, President and Owner of Green Lawn Fertilizing / Green Pest Solutions, the company has grown to over 200 team members and over 100 service vehicles in its fleet. They have a mission to become the leader in the lawn and pest industry by providing superior customer service. Over the last several years, highly reputable publications have taken notice of the company succeeding in that mission. For seven of the last eight years the company received the Inc. 5000 award for being recognized as one of the 5,000 fastest growing private companies in the America. In 2018, Green Pest Solutions was named "Best of Philly Earth-Friendly Exterminator" by Philadelphia Magazine and in 2017 they were named "Best Pest Control" by Philly.com. In 2017, the company received the "Customer Service Excellence" Award by the Greater Philadelphia Chamber of Commerce. This past August the company was named as one of Philadelphia Business Journal's Best Places to Work.