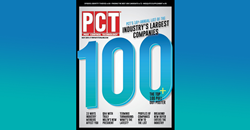 "The growth we have experienced here at Green Pest Solutions is a testament to the hard work everyone puts in day in and day out. Growing by over 21% in 2018 was amazing and we want to keep striving to reach new heights." Says President Matt Jesson
WEST CHESTER, Pa. (PRWEB) May 30, 2019
Green Pest Solutions is now one of the top 100 pest control companies in the US. Green Pest Solutions was listed in the Pest Control Technology (PCT) Top 100 list for the first time in company history. The leading locally owned and operated pest control company servicing the PA, NJ and DE region ranked #46 among PCT's Top 100. The 2019 Top 100 is based off the United States largest one hundred pest control companies according to revenue in 2018.
Pest Control Technology is the leading publication in the pest control industry. It provides the latest news, business information and product technology for pest management professionals. The PCT Top 100 lists the industry's 100 largest pest management firms in the United States by revenue based on the previous year. This list is compiled by the editorial staff of PCT magazine each year since its debut in 2002.
Green Pest Solutions has seen rapid growth in the pest control industry. Crediting great people delivering a superior customer experience as their recipe for success, Green Pest Solutions has experienced growth rarely seen in the pest control industry. The company grew by over 21% in 2018 and exceeded $15 million in total revenue to earn their inaugural appearance on the PCT top 100 list.
"The growth we have experienced here at Green Pest Solutions is a testament to the hard work everyone puts in day in and day out. Growing by over 21% in 2018 was amazing and we want to keep striving to reach new heights. The sky is the limit for all of us here at Green Pest Solutions and we look forward to one day surpassing $100 million in revenue while continuing to deliver a superior customer experience" says President Matt Jesson.
The majority of the companies on the PCT Top 100 list have been around for a very long time. The three largest pest control companies in the US were are all founded more than 90 years ago. Green Pest Solutions on the other hand has only been in business since 2012. To go from its founding to being listed as the #46th largest pest control company in the US in only seven years is quite an achievement.
If the 2,500+ online reviews the company has are any indication, Green Pest Solutions has managed its growth quite deftly. All five of Green Pest Solutions' locations on Google average 4.8 stars or above and its Facebook page has a 4.9 star rating out of 5. The company is A-rated on Angie's List and has been a Super Service Award winner each of its seven years in business.
Green Pest Solutions owes being able concurrently beat its aggressive growth goals while thriving in its mission to deliver a superior customer experience to its exceptional employees.
"We would not be even close to where we are today without our outstanding team members. By hiring great people and giving them the training and resources they need to be successful, we have been able to build an amazing culture of customer service" says SVP Josh Willey.
The challenges of getting new employees up to speed, maintaining a high service level consistency and developing future leaders to manage a growing staff necessitated many changes within Green Pest Solutions over the past two years. As SVP of Green Pest Solutions, Willey took these challenges head on. Among the many positive changes: a revamped technician training program, an alteration to the pest program where a 30 day follow-up service is included, a new Quality Assurance Manager position, and a robust leadership development program. The leadership development program in particular has been instrumental in motivating and nurturing the employees who have ambitions to grow in their careers.
Green Pest Solutions has expanded to five branches throughout the Pennsylvania and New Jersey area. The company now has over 170 employees and 100 vehicles in its fleet. Moving forward, Green Pest Solutions looks to open additional branches and continue to expand their service area to provide more customers with exceptional pest control and a superior customer experience.
Green Pest Solutions and Green Lawn Fertilizing is an independent lawn and pest control company that was founded in 2004. Under the leadership of Matt Jesson, President and Owner of Green Lawn Fertilizing / Green Pest Solutions, the company has grown to over 170 team members and over 100 service vehicles in its fleet. They have a mission to become the leader in the lawn and pest industry by providing superior customer service. Over the last several years, highly reputable publications have taken notice of the company succeeding in that mission. For six consecutive years the company received the Inc. 5000 award for being recognized as one of the 5,000 fastest growing private companies in the America. In 2018, Green Pest Solutions was named "Best of Philly Earth-Friendly Exterminator" by Philadelphia Magazine and in 2017 they were named "Best Pest Control" by Philly.com. In 2017, the company received the "Customer Service Excellence" Award by the Greater Philadelphia Chamber of Commerce.