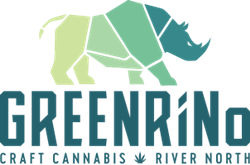 DENVER (PRWEB) October 21, 2020
The concentrates market is booming right now. Particularly trending in the cannabis industry is rosin production. From edibles to cartridges and from dabs to pre-rolls, cannabis enthusiasts are clamoring to get their hands on high-quality rosin.
Rosin refers to the extraction process that uses pressure and heat to yield a shatter-like concentrate. Known for its versatility, rosin can be made using either flower or hash and kief. In contrast to its concentrate counterparts, rosin is solventless, which means users do not have to worry about leftover solvents negatively affecting their health or their high.
Green RiNo has long been a proponent of growing high-quality flower that wows their customer base, knowing that it takes careful hands and a true passion to grow flower that has flavor and potency. Taking pride in cultivating the best of the best, Green RiNo has announced that they are coming out with their first batch of live rosin.
Pairing high-quality flower with a carefully chosen extraction lab, Green RiNo is in the midst of running their in-house strain called "Chem De La Chem". Green RiNo has approached this new endeavor with one priority in mind: team up with producers to bring their top quality flower to the concentrate market.
Known for its gassy flavor and high potency, Chem De La Chem was the perfect choice for their inaugural live rosin strain. Based on the structure and trichome coverage of Chem De La Chem, it provides for high yields and a strong terpene profile. Pricing will vary based on overall characteristics and yields, but should be retailing for an MSRP of $60/g.
In addition to Chem De La Chem, Green RiNo will be releasing Lemon G, Wilson Zero, White Grape Fruit Cookies and an OG to start their journey into the live rosin market. Their entire team is confident that the strategic partnership with the extraction lab will prove to be a fruitful venture for the Green RiNo brand and, more importantly, for its customers base.
As one of the purest forms of concentrated cannabis, live rosin has proven to be a force to be reckoned with in the cannabis industry. Enthusiasts are flocking to stores who carry high quality product that meets or exceeds their high expectations. In fact, High Times has referred to live rosin as the "cannabis concentrate connoisseur's choice".
As usual, Green RiNo is on the cutting-edge of the shifts in the industry. With the rosin market starting to accelerate, their ur focus has been to provide strains and flavor profiles that are either currently limited in the market or are nonexistent in the market. In doing so, they aim to offer unique product that never falters on quality.