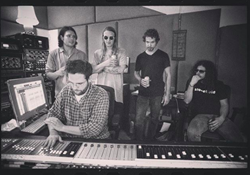 NEW YORK (PRWEB) October 01, 2019
Soulful hard-hitting blues bring to mind bands like Zeppelin, Sabbath and The Black Keys. Wanting to set themselves apart from their predecessors, one band set out to find its own roots within the genre. The Salt Lake City native Green River Blues led by Cory Amundsen launched their first LP in April produced by Phil Joly, the Grammy award-winning producer and engineer of Electric Lady Studios known for his work with Daft Punk, Lana Del Rey, The Kills, The Strokes and more.
After cutting their debut album Locomotive, the band known for its Utah and West Coast gigs lost no momentum heading east to Brooklyn in August to record their new single with Joly. For singer, songwriter and musician Amundsen, Green River Blues is a project years in the making finally coming to fruition since he picked up a guitar in 2004.
Listen to tracks off Locomotive, the band's first full-length album, and you'll be reminded of drinking a stout beer; rich, smooth molasses out in front with a soulful burn on the back end, translated into sound. Green River Blues recorded previous demo tracks around the country but it wasn't until they stumbled upon Prairie Sun Recording Studio in the heart of California wine country that they found the sound they were looking for.
Turning out artists like The Grateful Dead, The Doobie Brothers, Van Morrison, Amundsen knew the studio, appearing to be nothing more than an old barn, offered inspiration. Embracing the vintage vibes, the band utilized "The Waits Room", a small corner storage room made famous by Tom Waits. Listen close at the end of the title track "LocoMotive" and you'll hear the rattling of an aged water heater in the corner of the room.
In addition to teaming up with Joly, the LP was mastered by Pete Lyman at Infrasonic Sound, also known for his work coincidentally with Tom Waits and artists including Chris Stapleton, Brandi Carlile, Weezer, Panic! at the Disco and more.
As Green River Blues embarks upon their new single to be released this fall, it will be interesting to see how the city that never sleeps frames the background of their bluesy rock sounds and songs written by Amundsen.
For more information, visit https://greenriverblues.band/.