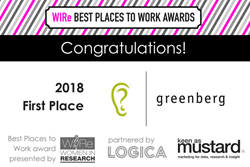 EMERYVILLE, Calif. (PRWEB) September 26, 2018
Women in Research (WIRe) awarded Greenberg Strategy its first annual Best Places to Work Award at the ESOMAR Congress in Berlin on September 25. The award was created by WIRe, Logica (formerly Koski Research) and Keen as Mustard Marketing to celebrate companies in the market research industry who put the lives and livelihoods of their employees at the center of all they do. The award pays specific attention to criteria defined by a global research study as a means of acknowledging companies and organizations who strive toward a more equitable workplace and industry.
WIRe reviewed 56 entries from 43 companies around the world and looked to the results of its 2018 Workplace survey to establish the qualities, experiences, and environments most important to those in the market research industry.
The study found that the most important features of market research workplaces for women are:
– Executive leadership that is in line with core values
– Organization/company attitude that reflects understanding of employees' lives outside work
– Opportunities for career advancement
– Open communication with manager
– Competitive compensation to other organizations in the industry
– Flexibility on where/when they work
– Equal pay to others doing similar work at the same company or with similar experience at the same company
– Skills training
Julie Forster, VP Head of WholeHuman Resources, said: "WIRe's award raises awareness about what people value in their workplace and we're honored to represent what it stands for: supporting and encouraging the well-being of female employees, absolutely. And also leading the way when it comes to workplace qualities that benefit everyone."
Greenberg Strategy is a strategy and research consultancy focused on helping organizations identify the human patterns that impact their businesses. Our WholeHuman™ approach blends the art and science of tapping emotional, rational and instinctual responses to reveal the deeper truths that drive customer strategy and measurable, actionable business success. We specialize in both qualitative and quantitative research around customers, brand, communications, products and organization.