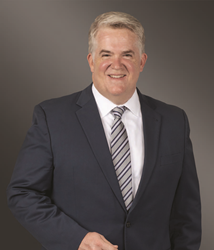 "During his long and impressive career as U.S. Attorney for the District of Utah, John was trusted by two presidential administrations to handle highly sensitive matters and high-stakes investigations," said Greenberg Traurig CEO Brian L. Duffy
SALT LAKE CITY (PRWEB) April 05, 2021
Global law firm Greenberg Traurig, LLP continued the expansion of its White Collar Defense & Special Investigations Practice with the addition of former U.S. Attorney John Huber as a shareholder in its Salt Lake City office. Huber was most recently the U.S. Department of Justice's (DOJ) longest-tenured active U.S. Attorney, having been nominated by two presidents and unanimously confirmed twice by the U.S. Senate.
"We are proud to welcome an attorney of John's caliber and reputation to the firm," said Greenberg Traurig CEO Brian L. Duffy. "During his long and impressive career as U.S. Attorney for the District of Utah, John was trusted by two presidential administrations to handle highly sensitive matters and high-stakes investigations. John is a nationally renowned leader who will be a tremendous asset to our clients and add significant depth to our Salt Lake City office."
As U.S. Attorney for the District of Utah, Huber supervised and directed approximately 800 new civil and criminal actions each year. His office handled a variety of complex investigations of white-collar fraud, internal corporate fraud, bank fraud, securities fraud, health care fraud, False Claim Act, qui tam, controlled substances diversion, trade secrets, and international terrorism and espionage. Huber increased the number of filed cases in federal court by 20%, and reinvigorated the office's trial culture, supervising and directing 34 jury trials and two bench trials. He also oversaw a partnership with the Securities and Exchange Commission's Salt Lake Regional Office, regularly coordinated with federal district and magistrate judges, and recruited more than one-half of the current Assistant U.S. Attorneys in Utah.
At Greenberg Traurig, Huber will focus his practice on white collar matters related to securities fraud, bank fraud, health care, cyber security, industrial espionage, Ponzi schemes, corporate fraud, trade secrets, and other high-stakes issues. The firm's robust White Collar Defense & Special Investigations Practice includes more than 30 former federal prosecutors and more than 60 attorneys.
"Greenberg Traurig is a top-tier law firm with a demonstrated commitment to delivering best-in-class service to clients," Huber said. "The firm's outstanding reputation, its robust white collar expertise, and its culture of success were crucial factors in drawing me here. I look forward to building on that, collaborating with colleagues across the firm, and contributing to the growth of the Salt Lake City office."
Huber was appointed to serve for three years on the Attorney General's Advisory Committee of U.S. Attorneys, including two years as vice-chair. During his tenure on the panel, which shapes and oversees DOJ practice and policy, he advised three Attorneys General, representing both political parties: Loretta Lynch, Jeff Sessions, and William Barr; and their deputies: Sally Yates, Rod Rosenstein, and Jeffrey Rosen.
In 2010, Huber was awarded the "Director's Award for Superior Performance by an Assistant U.S. Attorney" by former U.S. Attorney General Eric Holder. In 2004, former U.S. Attorney General John Ashcroft presented Huber with the "United States Attorney General Award for Outstanding Contributions."
"John is a highly skilled attorney with a deep understanding of the wide range of white collar issues currently affecting companies worldwide," said Nathan J. Muyskens, who co-chairs the firm's Global White Collar Defense & Special Investigations Practice. "Drawing from his deep-rooted experience at DOJ, John is well positioned to help clients seeking guidance in connection with an array of high stakes complex investigations and white collar matters. He will further strengthen our practice and make an immediate impact."
A thought leader in his field, Huber frequently speaks on enforcement topics. Later in April, he will be a featured speaker in a symposium hosted by the Federal Bureau of Investigations at the University of Utah, titled "Protecting America's Research Enterprise: Transparency, Integrity & Administrative Rules."
Prior to serving as U.S. Attorney, Huber worked as Assistant U.S. Attorney and Special Assistant U.S. Attorney for the District of Utah, as well as Chief Prosecutor for Utah's West Valley City Municipal Corporation.
Deeply involved in the Utah community, Huber has served as chairman of the board for the Rocky Mountain High Intensity Drug Trafficking Area Program. He has also served as a law enforcement academy instructor, and as president of the Utah Municipal Prosecutors Association. He has served on the Board of Directors for both the Utah Prosecution Council and the Statewide Association of Public Attorneys.
Huber earned his J.D. from The University of Utah S.J. Quinney College of Law, and his B.A., cum laude, from The University of Utah.
Greenberg Traurig's Salt Lake City team works with regional and national companies ranging from start-ups to Fortune 500 corporations, across multiple industries. The team offers clients a wealth of local experience, backed by Greenberg Traurig's global platform and network of resources. The firm's Salt Lake City attorneys are consistently ranked as leaders in their fields by publications such as The Best Lawyers in America®, Chambers USA, Utah Business Magazine, and Utah Law Review.
Greenberg Traurig's White Collar Defense & Special Investigations Practice has seen significant recent expansion. In addition to Huber, these shareholders joined in recent months: Adam S. Hoffinger and David I. Miller, former Assistant U.S. Attorneys for the Southern District of New York; Kyle R. Freeny, a former federal prosecutor for the Special Counsel's Office and former member of the DOJ Criminal Division's Money Laundering and Asset Recovery Section; Benjamin G. Greenberg, a former U.S. Attorney for the Southern District of Florida; Mohammed Khamisa QC, former Standing Counsel for the British Government's Department of Trade and Industry; Jessica Natali, a former DOJ litigator; Daniel Pulecio-Boek, who teaches cross-border litigation at Georgetown University; and Masoud Zabeti, a former head of the Finance & Banking Disputes Group at a Silver Circle U.K. firm.
About Greenberg Traurig's White Collar Defense & Special Investigations Practice: Greenberg Traurig's White Collar Defense & Special Investigations Practice protects companies and individuals under government scrutiny. GT's creative defense lawyers in the US, Europe, Latin America, and Asia Pacific are at the forefront of white collar defense, with wide-ranging experience in structuring internal investigations, developing guidelines, implementing compliance programs, and addressing issues of voluntary disclosure. Their representations involve alleged securities and commodities fraud, Foreign Corrupt Practices Act (FCPA) violations, health care/pharmaceutical fraud, environmental crimes, money laundering, financial services fraud, public corruption/campaign finance, tax corruption, defense contracting, and bankruptcy fraud. In addition, the majority of GT's litigation shareholders and counsel have first-chair trial experience.
About Greenberg Traurig, LLP: Greenberg Traurig, LLP (GT) has approximately 2200 attorneys in 40 locations in the United States, Latin America, Europe, Asia, and the Middle East. GT has been recognized for its philanthropic giving, diversity, and innovation, and is consistently among the largest firms in the U.S. on the Law360 400 and among the Top 20 on the Am Law Global 100. The firm is net carbon neutral with respect to its office energy usage and Mansfield Rule 3.0 Certified. Web: http://www.gtlaw.com