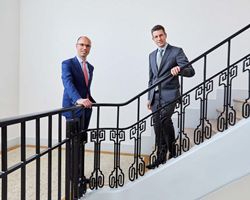 AMSTERDAM (PRWEB) April 06, 2021
The Amsterdam office of global law firm Greenberg Traurig, LLP (GT) continues its significant growth with the addition of lawyer Jelmer Kalisvaart, of Loyens & Loeff, and candidate civil law notary Alexander van Hövell, of Allen & Overy, on 1 April 2021.
Growth and integrated approach
Kalisvaart and Van Hövell's move highlights GT's strategy to further grow core practices in which the firm is already best-in-class: its corporate and real estate practices, including M&A, Capital Markets, Finance, Restructuring, and Tax. Amsterdam office managing partners Cees van Oevelen and Thomas van der Vliet emphasise that GT is capable of representing clients in integrated and highly specialised teams "like no other Dutch firm." "Both in the Netherlands and abroad we offer our clients comprehensive solutions. Clients appreciate this distinctive character, which is the basis for the growth of our firm is experiencing. Jelmer and Alexander's arrival in respectively the corporate practice and the real estate practice once again confirms our unique and strong position in the market."
Since the end of 2019, other prominent lawyers, like Herald Jongen, Bas Vletter, Sabine Schoute, and David van Dijk have affiliated themselves and their teams with GT Amsterdam.
Jelmer Kalisvaart
Kalisvaart specialises in capital markets, including IPOs, secondaries, claim emissions and public takeover bids. He advises listed companies, multinationals and private equity houses on numerous domestic and cross-border transactions.
Bas Vletter commented that Jelmer is a huge asset to GT, "He has a wealth of experience regarding listed companies and regularly assists underwriters with IPOs and other capital market transactions. The capital markets are very active, with listings of Dutch companies on Euronext, but also on NASDAQ and NYSE, next to all the activity around SPACS (special purpose acquisition vehicles). Jelmer's arrival further underpins the strong position of GT's Capital Markets team in the market."
Alexander van Hövell
Van Hövell focuses his practise on real estate and corporate law. He advises on commercial real estate transactions and property development. In addition, he is frequently involved in acquisitions of real estate companies, renewable energy projects, restructurings, and all notarial aspects of real estate and finance transactions.
"We are very pleased that Alexander will join us", says David van Dijk. "Alexander and I have actually worked together for years, often on opposite sides of the same transactions, but also sometimes working together in multidisciplinary teams for projects. Louisa van Isselmuden, who also moved to GT recently, also knows Alexander well. We all share the same work ethic. With his broad experience in international and complex real estate transactions, he is an asset to our real estate practice."
Alexander van Hövell said, "GT's international network, the presence of all legal disciplines to optimally advise clients across all industries, and the opportunity to contribute jointly with the current Amsterdam team to further build a leading real estate practice in the Netherlands in addition to the already unprecedented US, German, Poland and UK real estate practices, made the move to GT a logical choice for me."
Greenberg Traurig Amsterdam
Greenberg Traurig Amsterdam is an integrated part of Greenberg Traurig, LLP, an international law firm with more than 2,200 attorneys, tax specialists and civil-law notaries, with 40 offices throughout the world.