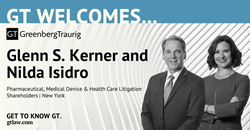 NEW YORK (PRWEB) November 19, 2021
Global law firm Greenberg Traurig, LLP continues to expand its award-winning Pharmaceutical, Medical Device & Health Care and Products Liability Litigation practices with the addition of Glenn S. Kerner and Nilda M. Isidro as shareholders in the firm's New York office. Both attorneys join Greenberg Traurig from Goodwin Procter LLP, where they were partners, and Kerner served as head of Goodwin's New York Litigation Department and chair of its Products Litigation and Counseling Practice.
Kerner and Isidro serve as national counsel for Teva Pharmaceuticals USA, Inc., where they supervise local counsel and coordinate the national litigation strategy for the generic pharmaceutical industry leader. In addition, they represent Smith & Nephew, Inc., Zoll Medical Corporation, and Freshly, among others.
"We are beyond thrilled to welcome Glenn and Nilda – both exceptional attorneys who we have enjoyed working closely with for years, representing clients as defense co-counsel in various matters," said Lori G. Cohen, vice chair of Greenberg Traurig, co-chair of the firm's global Litigation Practice, co-chair of the Trial Practice, and founder of the Pharmaceutical, Medical Device & Health Care Practice at the firm. "They already feel like they are part of our team and their experience is a natural fit that continues our commitment to excellence in client service."
"Glenn and Nilda have been longstanding and trusted counsel for Teva. Their shared litigation experience has resulted in numerous important victories for us as we engage in our important mission of improving patient lives by delivering essential and high-quality medicines across the globe," said Rachel Gallagher, senior director, legal counsel at Teva Pharmaceuticals USA, Inc. "We look forward to future collaboration and success between Glenn and Nilda and their new Greenberg Traurig team."
Earlier this year, Kerner, Isidro, and a Greenberg Traurig team jointly led the legal defense group in a coordinated California proceeding against 12 different manufacturers of Amiodarone, a medication used to treat certain types of serious, irregular heartbeat. Together, they obtained the dismissal of 480+ non-California plaintiffs. They subsequently obtained the dismissal of the remaining 28 California plaintiffs, as well.
"We remain focused on growing our team of talented lawyers to meet client demands in our expanding health care litigation practice in New York," said Ejim P. Achi and Scott J. Bornstein, co-managing shareholders of Greenberg Traurig's New York office. "Glenn and Nilda are great additions who will further distinguish our team and contribute to its already impressive record of serving clients' needs."
At Greenberg Traurig, Kerner will represent clients in matters involving pharmaceuticals and medical devices, emerging technologies, food and dietary supplements, and other consumer products. Having played a major role in some of the most notable mass tort and MDL cases over the past 25 years, Kerner has been actively involved in dozens of mass torts and MDLs with well over a billion dollars at risk, involving pharmaceuticals, dietary supplements, medical devices, semiconductor clean rooms, and natural rubber latex gloves.
In addition, Kerner has experience in complex commercial litigation, antitrust, real estate litigation, and other civil litigation. He has a J.D. from Fordham University School of Law and a B.A. from Cornell University.
"Greenberg Traurig's Pharmaceutical, Medical Device & Health Care Practice is truly one of the crown jewels of the firm and nationally renowned for both the breadth of its client base and the successful results the group achieves for them," said Kerner, who also has litigated individual cases concerning various consumer products, as well as pharmaceuticals and orthopedic medical devices, and has served as lead trial counsel in cases across multiple industries and jurisdictions. "The high quality of Greenberg Traurig's lawyers, who are well-positioned to represent clients wherever and whenever needed, also makes the firm the perfect place for me to expand my practice."
Isidro will focus her practice at Greenberg Traurig on pharmaceutical, medical device, and consumer products litigation, including mass torts and MDLs. She also provides strategic counseling to a wide range of clients on issues including product launches, labeling and warnings, regulatory compliance, good manufacturing practices (GMPs), product warranties, and related litigation avoidance and risk management issues.
"Greenberg Traurig is considered the 'go-to' firm for clients who require the highest level of success at trial," said Isidro, who also represents clients in the innovative and emerging technologies space, often handling matters related to cell-cultured foods, genetically engineered foods, IoT and IIoT products and technologies. "These attributes and the firm's global platform will be tremendous assets, allowing me to better serve my clients."
Isidro has deep experience assisting clients with medical devices, pharmaceuticals, food and beverages, dietary supplements, and consumer products. As part of the strategic process of providing relatable and understandable information to juries, judges, lawmakers, and regulators, she regularly works with a network of scientific and industry experts in various fields of medicine, materials sciences, and industry regulation.
Isidro has a J.D. from New York University Law School and a B.A., magna cum laude, from Harvard University.
About Greenberg Traurig's Pharmaceutical, Medical Device, & Health Care Practice: Greenberg Traurig's Pharmaceutical, Medical Device & Health Care Practice includes more than 90 trial attorneys representing clients in complex litigation in courts across the country. The team regularly serves as national, regional, special trial, or science counsel – in both mass torts and individual cases – to leading global companies that produce innovative, life-saving products.
About Greenberg Traurig's Products Liability & Mass Torts Litigation Practice: The Products Liability & Mass Torts Litigation Practice is an integral part of Greenberg Traurig's 600-plus member global Litigation Practice. The team is nationally recognized for its dynamic courtroom presence, responsiveness to clients, and deep subject matter knowledge. The team was The American Lawyer's 2018 "Products Liability Litigation Department of the Year." Additional recent recognitions include national rankings for "Products Liability & Mass Torts" from Chambers USA; national rankings for "Product Liability & Mass Torts Defense" from The Legal 500 United States; and a first-tier national ranking for "Mass Tort Litigation / Class Actions – Defendants" from U.S. News – Best Lawyers® "Best Law Firms." In addition, Greenberg Traurig is recognized as a "Product Liability Litigation Leader" in the 2021 BTI Litigation Outlook, published by BTI Consulting Group.
About Greenberg Traurig: Greenberg Traurig, LLP (GT) has approximately 2300 attorneys in 40 locations in the United States, Latin America, Europe, Asia, and the Middle East. GT has been recognized for its philanthropic giving, diversity, and innovation, and is consistently among the largest firms in the U.S. on the Law360 400 and among the Top 25 on the Am Law Global 100. The firm is net carbon neutral with respect to its office energy usage and Mansfield Rule 4.0 Certified Plus. Web: http://www.gtlaw.com