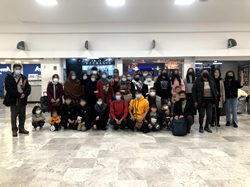 "It has been rewarding to have the opportunity to make a positive impact for these individuals whose lives have been unjustly upended," said José Raz Guzmán.
MEXICO CITY (PRWEB) November 17, 2022
Global law firm Greenberg Traurig, S.C. has secured political asylum and safe passage for the players of the National Afghanistan Women's Flag Football team, as well as their families and coach -- 70 individuals including 20 minors. The team is a member of the International Women's Flag Football Association (IWFFA).
One of the first announcements the Taliban made after retaking control of Afghanistan in Sept. 2021 was that women and girls would no longer be allowed to play sports. The team, which was established in 2018, as well as players' families, became prime targets for persecution, and realized quickly they needed to flee.
At the start of 2022, the team was invited to play an IWFFA tournament in Mexico and reached out to the ALDEA People's Justice Center, who referred the team's case to Greenberg Traurig, for assistance with their visas. After learning more about their situation, the firm identified that team members could be candidates for asylum.
"It has been rewarding to have the opportunity to make a positive impact for these individuals whose lives have been unjustly upended. We will continue to seek out ways to use the capabilities here in our Mexico City office, along with Greenberg Traurig's broad global platform, to help those who need it most," Greenberg Traurig Mexico City office Managing Shareholder José Raz Guzmán said.
"The power to grant asylum to those who have left everything behind is one of the most noble and important faculties of the Mexican government," Greenberg Traurig's Global Pro Bono Program manager Elba B. Gutiérrez, and an attorney who worked on the matter, said. "We are extremely happy to work with the Ministry of Foreign Affairs to help make Mexico's foreign policy a feminist, transformative, and inclusive reality. We are glad to see tangible results from the Ministry's commitment to granting asylum to foreigners who are in danger."
The first flight, which arrived in Mexico City Nov. 16, consisted of 37 people. The IWFFA and other organizations have generously provided support for some of the tickets on this flight. The remaining 33 individuals are expected to arrive in the coming weeks.
But getting the team and their families safely into Mexico with asylum was only part of the battle.
Greenberg Traurig has worked over the last several months with Programa Casa Refugiados (PCR), a Mexico City-based non-governmental organization that works with refugees and has agreed to host the team and their families for six months. During their stay, PCR will help them to learn Spanish, integrate into Mexican culture and customs, and assist with other practical needs such as accessing education, finding jobs, and connecting the team to social workers and psychological care as needed.
Greenberg Traurig is assisting PCR build the resources to receive donations as well as working with it to prepare compliance reports required by Mexican anti-money laundering legislation.
"This cross-border, multi-office effort is a quintessential example of how Greenberg Traurig's pro bono program uses the firm's global footprint and legal acumen to successfully advocate for vulnerable people throughout the world," said Greenberg Traurig's Global Pro Bono Program Chair Caroline J. Heller.
This latest effort comes on the heels of the firm recently receiving two prestigious Pro Bono awards for its work with asylum seekers from all over the world, including Afghanistan. The firm takes pride in directly and positively impacting the communities it serves through philanthropic or volunteer efforts, pro bono legal services, and participation in sustainability initiatives.
Gutiérrez has led the coordination of this effort with key firm leadership and counsel provided by Raz Guzmán.
Legal support is also being provided by Shareholder Luis Cortés, Associates Víctor Felipe Callarisa Rivera, Karla Copka, and Daniela Reyes Rodríguez, and Diana Cortés, who is a law clerk, while others standby to assist with further needs as they arise.
About Greenberg Traurig's Pro Bono Program: Greenberg Traurig lawyers across the firm's offices provide pro bono legal services to the indigent and working poor, as well as to numerous civic and charitable organizations dedicated to assisting them. The firm focuses its resources on specialized and interrelated issues including civil rights and affirmative action, anti-human trafficking, family law matters, children's rights, criminal appeals, immigration and political asylum, housing, and homelessness.
About Greenberg Traurig's Mexico City Office: Greenberg Traurig's Mexico City office offers clients innovative, strategic advice and legal services that span both traditional fields and contemporary regulatory sectors. The office has more than 60 bilingual attorneys who have been contributors to major national projects in Mexico and leverages the resources and reach of the firm's global platform to provide clients with tailored legal services reflective of the specific industry and market conditions in which they operate. The Mexico City office is an integral part of the firm's award-winning Latin America Practice, and has been recognized with leading competition, corporate, M&A, compliance, infrastructure, real estate, privacy, energy, administrative litigation, and banking practices in Mexico.
About Greenberg Traurig: Greenberg Traurig, LLP has more than 2500 attorneys in 43 locations in the United States, Europe, Latin America, Asia, and the Middle East. The firm reported gross revenue of over $2 Billion for FY 2021 and is consistently among the top firms on the Am Law 100, Am Law Global 100, and NLJ 250. On the debut 2022 Law360 Pulse Leaderboard, it is a Top 15 firm. Greenberg Traurig is Mansfield Rule 5.0 Certified Plus by The Diversity Lab and the Center for Resource Solutions Green-e® Energy program certifies that the firm's U.S. offices are 100% powered by renewable energy. The firm is often recognized for its focus on philanthropic giving, innovation, diversity, and pro bono. Web: http://www.gtlaw.com.