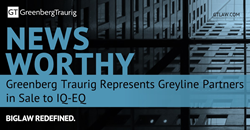 DALLAS (PRWEB) December 08, 2021
Global law firm Greenberg Traurig, LLP attorneys represented Greyline Partners, LLC (Greyline), an industry-leading U.S. provider of governance and regulatory compliance solutions for private equity, venture capital, hedge funds, and investors, in its sale to IQ-EQ, an Astorg portfolio company. The sale closed Nov. 30, 2021.
The sale was led by Corporate Shareholder Steven E. Bartz, who is based in Greenberg Traurig's Dallas office.
"We are pleased to have represented Greyline in such an instrumental sale. It has truly been an honor to support their team and be part of achieving their goals," Bartz said. "We look forward to future opportunities to work with the IQ-EQ team."
Greyline's mission is to create a full-service consultancy that solves financial services firms' global regulatory, operational and governance needs through dynamic, high-quality consulting and innovative technology, according to its website. With the sale, IQ-EQ's position as a leading provider of outsourced business services to the alternative asset industry is further enhanced.
The Greenberg Traurig deal-team also included Corporate Shareholder Thédoor Melchers and Associates Margaret Kim Heitjan and Chazz Sutherland; Tax Shareholder Labry Welty and Associates Blake Martin and Josh Prywes; Antitrust Litigation & Competition Regulation Shareholder Gregory J. Casas; Finance Shareholder Lou Ann Brunenn and Associate Ruth Guo; Intellectual Property & Technology Shareholder Jerry Fellows; Labor & Employment Of Counsel Alicia Sienne Voltmer; Data, Privacy & Cybersecurity Shareholder Jena M. Valdetero and Associate Philip E. Bryans; Export Controls & Economic Sanctions Shareholders Kara M. Bombach and Donald S. Stein, and Of Counsel Sonali Dohale; Investment Management Of Counsel Tanya L. Boyle; and others.
About Greenberg Traurig's Corporate Practice: Greenberg Traurig's Corporate Practice comprises more than 500 lawyers in the United States, Europe, Asia, the Middle East and Latin America who regularly advise public and privately held companies, entrepreneurs and investment funds on global mergers and acquisitions, corporate restructurings, private equity and venture capital, underwritten and syndicated offerings, commercial finance and syndicated lending, cross-border transactions, and general corporate matters. The group's industry experience includes transactions in a wide range of fields, from the pharmaceutical, medical devices, and life sciences fields, to representations involving clients in the aviation, banking, consumer products, energy, food and beverage, health care, manufacturing, media, technology, and telecommunications sectors.
About Greenberg Traurig, LLP – Texas: Texas is important to Greenberg Traurig, LLP and part of its history. With approximately 130 Texas lawyers in Austin, Dallas, and Houston, Greenberg Traurig has deep roots in the Texas business, legal, and governmental communities. Greenberg Traurig Texas works with clients to address their interdisciplinary legal needs across the state utilizing the firm's global platform. The Texas attorneys are experienced in industries key to the state's future, including: aviation, chemicals, construction, education, energy and natural resources, financial institutions, health care, hedge funds, hospitality, infrastructure, insurance, media, medical devices, pharmaceutical and biotechnology, real estate, retail, sports, technology and software, telecommunications, transportation, and video games and esports.
About Greenberg Traurig: Greenberg Traurig, LLP (GT) has approximately 2300 attorneys in 40 locations in the United States, Latin America, Europe, Asia, and the Middle East. GT has been recognized for its philanthropic giving, diversity, and innovation, and is consistently among the largest firms in the U.S. on the Law360 400 and among the Top 25 on the Am Law Global 100. The firm is net carbon neutral with respect to its office energy usage and Mansfield Rule 4.0 Certified Plus. Web: http://www.gtlaw.com