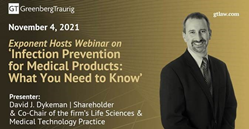 BOSTON (PRWEB) November 03, 2021
David J. Dykeman, co-managing shareholder of global law firm Greenberg Traurig, LLP's Boston office and co-chair of the firm's global Life Sciences & Medical Technology Group, will be a panelist on the webinar "Infection Prevention for Medical Products: What You Need to Know." The program, hosted by engineering and scientific consulting firm Exponent and MassMEDIC, will take place Nov. 4 at 1 pm EST.
The webinar will address the causes of medical device infections, design strategies for infection prevention for single use and reusable devices, intellectual property (IP) and environmental concerns, and design verification for infection prevention. Due to the growth of drug-resistant microbes and hospital-acquired infections, infection prevention is critical for medical device manufacturers, as medical devices can harbor drug-resistant microbes and transmit device-related infections – even after the devices have been disinfected.
Dykeman is a registered patent attorney with nearly 25 years of experience in patent and IP law. His practice focuses on securing worldwide IP protection and related business strategies for high tech clients, with particular experience in medical devices, life sciences, robotics, materials, and information technology. An author of over 55 articles and a speaker at over 50 conferences, Dykeman is the founding co-chair of the American Bar Association (ABA)'s Medical Devices Committee. He has also been named one of the top 250 Patent and Technology Licensing Practitioners in the world by Intellectual Asset Management (IAM) Magazine, an "IP Star" by Managing IP magazine, a "Life Science Star" by LMG Life Sciences, one of the World's Leading IP Strategists in the IAM 300, and is listed in Chambers.
Exponent is "a global engineering and scientific consulting firm that brings together more than 90 different disciplines to address complex issues facing industry and government today," according to its website. For over 50 years, Exponent has provided engineering, scientific, environmental and health consulting services to corporations, insurance carriers, government agencies, law firms, and individuals. The firm is best known for analyzing accidents and failures to determine their causes, as well as assisting clients with human health, environmental, engineering and regulatory issues associated with new products or processes to help prevent problems in the future.
About Greenberg Traurig's Life Sciences & Medical Technology Group: Greenberg Traurig's Life Sciences & Medical Technology Group advises clients ranging from start-ups to large multinational public companies to leading research institutions. The group's attorneys work closely with clients, providing innovative legal counsel to help them achieve their objectives – from discovery through commercialization and product marketing.
About Greenberg Traurig: Greenberg Traurig, LLP (GT) has approximately 2,300 attorneys in 40 locations in the United States, Latin America, Europe, Asia, and the Middle East. GT has been recognized for its philanthropic giving, diversity, and innovation, and is consistently among the largest firms in the U.S. on the Law360 400 and among the Top 25 on the Am Law Global 100. The firm is net carbon neutral with respect to its office energy usage and Mansfield Rule 4.0 Plus Certified. Web: http://www.gtlaw.com