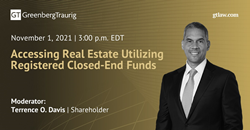 ATLANTA (PRWEB) November 02, 2021
Terrence O. Davis, a shareholder in global law firm Greenberg Traurig, LLP's Corporate Practice, moderated a panel discussion during the Institute for Portfolio Alternatives IPAConnect Conference held Nov. 1, 2021.
Attendees of the two-day conference held in New York had an opportunity to network with leading asset managers and distribution and industry partners, as well as "learn how unlisted closed end funds (interval and tender offer) are structured and how they contribute to a well-diversified portfolio," according to the event website.
Davis moderated the panel "Accessing Real Estate Utilizing Registered Closed-End Funds," which was the first of three panels on registered closed-end funds and their asset class focus. Other panelists included Dr. Randy Anderson, CEO, Griffin Capital Asset Management Company, LLC; Billy Butcher, COO, KKR global real estate, KKR; and Adam Lotterman, co-CIO, Bluerock.
Davis advises and counsels a wide range of registered investment companies, investment advisers, broker-dealers, and fund managers in connection with various matters arising under the federal securities laws, with a particular emphasis on the Investment Company Act of 1940 and the Investment Advisers Act of 1940. He counsels investment advisers and registered investment companies in connection with the structure of their compliance programs under these laws and develops related materials for investment advisers and registered investment companies, including training programs and compliance manuals. Davis also represents clients in connection with routine examinations and enforcement actions by the U.S. Securities and Exchange Commission (SEC).
About Greenberg Traurig: Greenberg Traurig, LLP (GT) has approximately 2,300 attorneys in 40 locations in the United States, Latin America, Europe, Asia, and the Middle East. GT has been recognized for its philanthropic giving, diversity, and innovation, and is consistently among the largest firms in the U.S. on the Law360 400 and among the Top 25 on the Am Law Global 100. The firm is net carbon neutral with respect to its office energy usage and Mansfield Rule 4.0 Plus Certified. Web: http://www.gtlaw.com