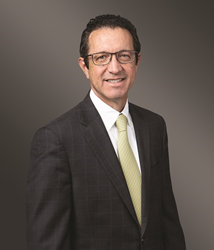 DALLAS (PRWEB) December 05, 2022
Global law firm Greenberg Traurig, LLP strategically expanded its Health Care & FDA Practice with the addition of James Peacock as a shareholder in the Dallas office.
"As Greenberg Traurig continues our strategic growth of key areas of practice in Texas and firmwide, we remain focused on employing high quality individuals," Greenberg Traurig Executive Chairman Richard A. Rosenbaum said. "James is well-known to every major hospital system in the state (and beyond) for his excellence and proven track record -- he will be a great addition to the Texas Health Care Practice, while adding significant expertise and depth across the firm."
With nearly 30 years' experience, Peacock focuses his practice on false claims act cases, government investigations, civil investigative demands, and health care related litigation. He also handles matters related to employment, breach of contract, managed care, and payment disputes. Peacock services clients such as large hospital systems, physician practices, physician groups, individual physicians, and health care insurance companies.
"James's extensive health care experience will further enhance our Health Care & FDA practice in Texas and will add significant expertise and depth to the group nationwide. His proven track record and stellar reputation among major hospital systems will be of great value to clients firmwide," Greenberg Traurig Dallas office Managing Shareholder Joseph F. Coniglio said.
Peacock previously served as general counsel of claims, litigation, and risk prevention at Baylor Scott & White Health and prior to that as an Assistant United States Attorney in the Eastern District of Texas where he prosecuted white collar and healthcare fraud cases. He received his L.L.M. in litigation management and a J.D. from Baylor University. Additionally, Peacock has a BSN in nursing from McNeese State University.
"I have always been impressed with the caliber of Greenberg Traurig attorneys and the firm's client focus and result oriented approach to the law," Peacock said. "It's an honor to be joining such a well-regarded team and I look forward to growing my practice."
Peacock will be a prominent member of the Health Care & FDA Practice in Texas, which includes Shareholders Joseph F. Coniglio, Charles C. Dunham, IV, Somer Hayes, and Michael L. Malone in Dallas; and other recent laterals Adam H. Laughton and Sheryl Tatar Dacso in Houston.
The firm's three offices in Texas have recently added strategic hires in various core practice areas including Shareholders Ashley Aten (Real Estate), Denis Braham (Real Estate), Christina M. Carroll (Litigation), G. Michael Gruber (Litigation), Adam H. Laughton (Health Care & FDA), Ethel J. Johnson (Litigation), Brian E. Mason (Litigation), and Austin R. Wyker (Tax); Senior Counsel Sheryl Tatar Dacso (Health Care & FDA); and, Of Counsel Richard A. Crow (Real Estate).
About Greenberg Traurig, LLP – Texas: Texas is important to Greenberg Traurig, LLP and the firm's history. With approximately 150 Texas lawyers in Austin, Dallas, and Houston, Greenberg Traurig has deep roots in the Texas business, legal, and governmental communities. Greenberg Traurig Texas works with clients to address their interdisciplinary legal needs across the state utilizing the firm's global platform. The Texas attorneys are experienced in industries key to the state's future, including: aviation, chemicals, construction, education, energy and natural resources, financial institutions, health care, hedge funds, hospitality, infrastructure, insurance, media, medical devices, pharmaceutical and biotechnology, real estate, retail, sports, technology and software, telecommunications, transportation, and video games and esports.
About Greenberg Traurig's Health Care & FDA Practice: Greenberg Traurig's multidisciplinary Health Care & FDA Practice provides strategic counsel to a diverse group of companies and other organizations, helping them to respond proactively to the rapidly changing health care marketplace. The group combines dedicated experience in health care regulatory compliance and operational matters with the firm's capabilities in corporate & securities, finance, tax, antitrust, ERISA, commercial and governmental litigation, restructuring, intellectual property and biotechnology, in order to provide a wide range of legal services.
About Greenberg Traurig: Greenberg Traurig, LLP has more than 2500 attorneys in 43 locations in the United States, Europe, Latin America, Asia, and the Middle East. The firm reported gross revenue of over $2 Billion for FY 2021 and is consistently among the top firms on the Am Law 100, Am Law Global 100, and NLJ 250. On the debut 2022 Law360 Pulse Leaderboard, it is a Top 15 firm. Greenberg Traurig is Mansfield Rule 5.0 Certified Plus by The Diversity Lab and the Center for Resource Solutions Green-e® Energy program certifies that the firm's U.S. offices are 100% powered by renewable energy. The firm is often recognized for its focus on philanthropic giving, innovation, diversity, and pro bono. Web: http://www.gtlaw.com.