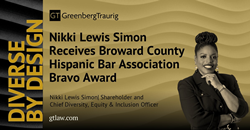 MIAMI (PRWEB) June 07, 2021
Nikki Lewis Simon, a shareholder and chief Diversity, Equity & Inclusion (DE&I) officer of global law firm Greenberg Traurig, P.A., received the Broward County Hispanic Bar Association (BCHBA) Bravo Award at the organization's installation gala on June 5.
The Bravo Award is presented annually for dedication and leadership in public service and promoting Hispanic diversity in the tri-county area of Broward, Miami-Dade, and Palm Beach Counties. BCHBA proudly conducts educational seminars, provides mentorship and financial assistance to minority law students, participates in community service initiatives and hosts cultural and social events, according to the association's website.
"It is truly an honor to be recognized by the Broward County Hispanic Bar Association, which has long played an important role in South Florida's legal community," Simon said. "Increasing diversity in the law is a mission that is very important both to me and the association, and I look forward to continuing collaborative efforts designed to accomplish this vital goal."
Simon, a member of the firm's Litigation Practice in its Miami office, has more than 21 years of commercial litigation experience. As the firm's chief DE&I officer, she designs and guides strategic initiatives and programs to deepen firmwide diversity and inclusion efforts that further enrich client engagements and community investments. Simon's role is indicative of, and integral to, Greenberg Traurig's core values of collaboration and inclusion – principles that inform the firm's operations and legal business in meaningful, positive ways.
About Greenberg Traurig's Diversity Initiative: From its inception, Greenberg Traurig has been committed to diversity, equity, and inclusion in the workplace. Greenberg Traurig is a uniquely empowering and diverse firm built on a foundation of fairness, equality, and authenticity. Through its Social, Racial, and Economic Justice Action Plan, the firm has committed $5 million over five years to help combat systemic racism and support impoverished communities. In addition, the firm's efforts have been recognized through its Mansfield Rule 3.0 certification, administered by The Diversity Lab, and by local, national, and global publications and organizations including Chambers and Partners. Web: https://www.gtlaw.com/en/general/our-firm/diversity Twitter: @GT_Drives.
About Greenberg Traurig: Greenberg Traurig, LLP (GT) has approximately 2200 attorneys 40 locations in the United States, Latin America, Europe, Asia, and the Middle East. GT has been recognized for its philanthropic giving, diversity, and innovation, and is consistently among the largest firms in the U.S. on the Law360 400 and among the Top 20 on the Am Law Global 100. The firm is net carbon neutral with respect to its office energy usage and Mansfield Rule 3.0 Certified. Web: http://www.gtlaw.com